I've seen a lot of nail care posts out and about around the interwebs today and I've always wanted to share what I use, but I just never got around to taking nice photos of all the products I use. Fast forward to this weekend when my husband left town for a guy's weekend on the slopes, so I had a lot of free time on my hand. In addition to relaxing, I got this post put together! Yay. So now I can share with you all the great products I use/love.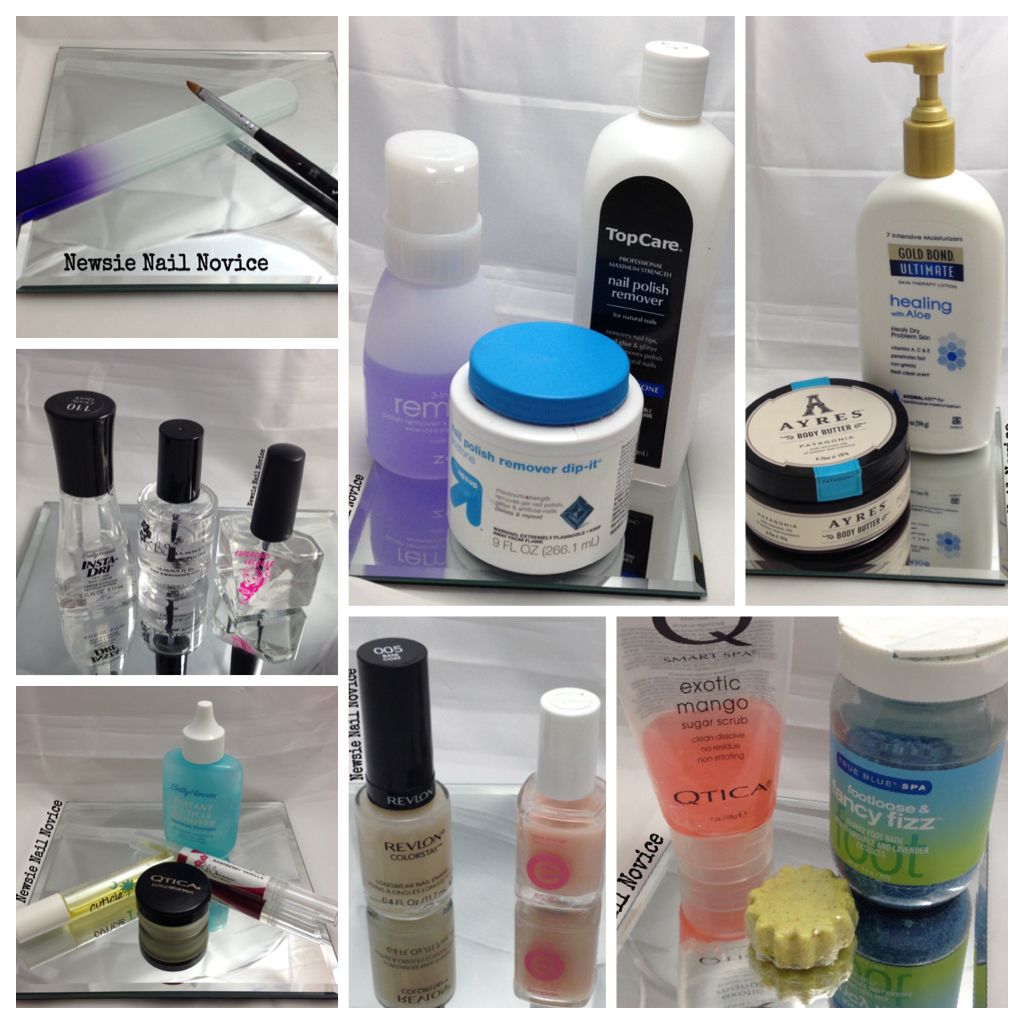 It all started because someone in a Facebook group I am in posted a photo of her work space, where she does her manis, and I thought adding that to this post might be fun.
This is a photo of the guest bedroom in our condo. I usually do my nails while sitting on the bed and watching TV. The shelf features a spice rack with my to-swatch/recent purchases pile. The light helps when I am doing my manis and I use it for photography as well. I keep my light box folded up in between the bed and the dresser so I can take photos when I feel like!
The tray holds all the essentials, remover, base and top coats, some stamping polish, a nail file and a magazine I use use to scrape excess polish or place used nail vinyls, or whatever. I don't always do my nails in this room, so it is nice that I can just move the tray easily into the other room and do my nails there as well. A moveable workspace works well for me! What does your workspace look like?
Ok, on to the products!!!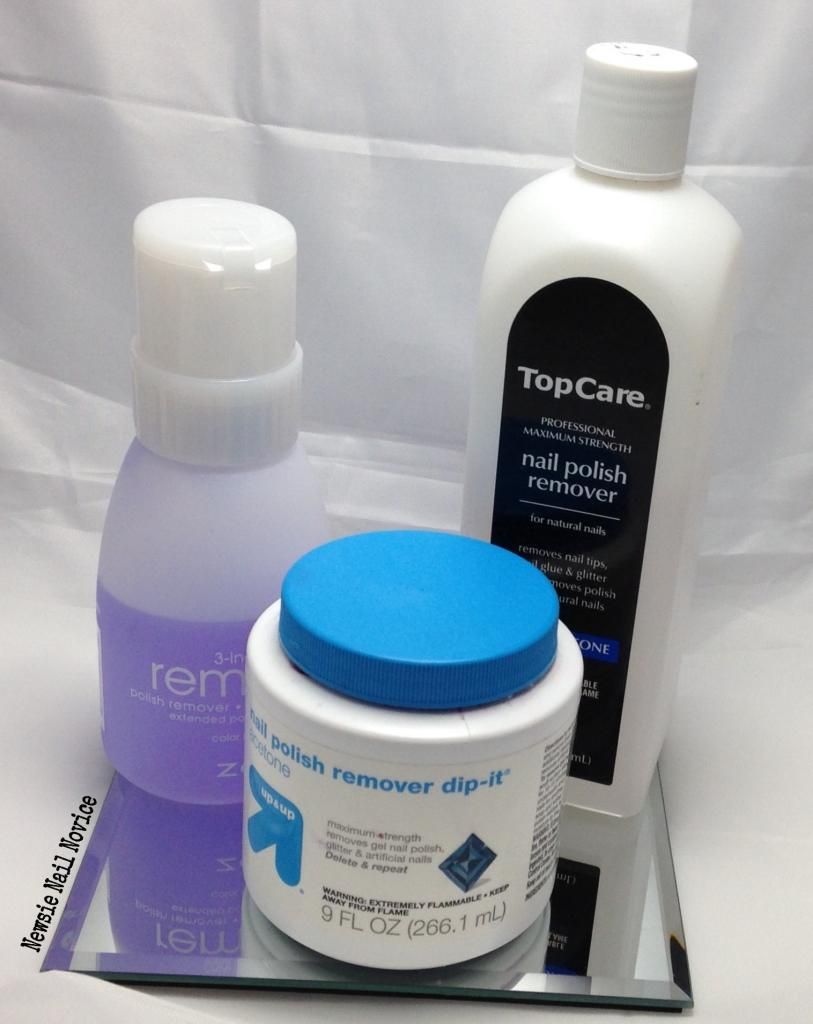 First up is removers. When removing most manis I use
Zoya Remove
because I find it is less harsh for my nails, almost moisturizing! If you've never tried it, you must. It is the best remover out there hands down!
I also acetone remover, which you can pick up at a drug store or local beauty supply. I use for clean up and tougher remover. To clean up, I just pour a bit of the remover inside the cap of the acetone bottle and dip my clean up brush in it as needed.
Also, for glitter polishes, The
up&up Nail Polish Remover Dip-It
is a must have. Glitter polishes are so gritty and difficult to remove. I absolutely hate it, and sometimes admittedly I avoid glitter polishes because of this. But the Dip-It, while is pure acetone and not so nice on the nails, rally is a saving grace when removing glitter polish.
For nail care, I use a glass nail file I got as a gift from years ago, and I thought it would be good to feature my clean up brush. I've been using this for about two years now, I know it has seen better days. But it has held up pretty well! I got this clean up brush in a
Red Carpet Nail Art kit
, back from when I tried gel nails many moons ago!
Now on to base coats. I've been on quite the journey the past few months testing various base coats after my beloved Revlon Colorstay Base Coat was discontinued. The Revlon base coat was seriously a Holy Grail product for me. Made my manis last forever. If your manis don't last like you want them to, you really have to try switching up your base coats. Believe it or not it really does make a difference. After trying many different base coats (boo to CND Stickey, it stains my nails!) I think I've finally settled on
Essie Grow Stronger
, though I find it might not protect as well from staining polishes (thought that was only once), but it does make my manis last longer and my nails stay stronger!
Next is top coats. These are also as important. I use
KBShimmer Clearly on Top
as a great quick dry top coat that is affordable too! It's only $5.00. Brand new this is a great top coat, but I do find I need to thin it about halfway through, otherwise it does shrink the polish a bit (don't worry it's nothing like Seche Vite). The coolest product I just discovered is
Marvel Liquid Macro Top Coat
. This is another quick dry top coat, but I have to say what I've noticed most about this one is how well it retains it's shine! This retails for $6.50. It is lovely. My bottle is still new, so no news on if it thickens after awhile, but I'll try to post an update if I remember. The Sally Hansen is there as my drug store go to, but honestly this one rotates. I use an extra top coat when I have hungry glitters and I don't want to use a good top coat, so I'll just use whatever drug store top coat I have on hand and then top it with Clearly on Top or Marvel Liquid Macro.
Now on to cuticle care. This is an area in which I have a ton of products, but don't use them near as much as I should. But I do want to remedy that. I really love
KBShimmer's Cuticle Oil Stick
, love the brush applicator, really saves on the mess.
Cuticle Glaze
is a heavy duty oil and is really great for moisturizing the cuticles, and has a lovely sweet cookie smell to it. I won this one in a contest lately and is created by the lovely Danele of
Low Country Lacquer
. The
Qtica Cuticle Repair Balm
is for the jobs when you need a heavy duty job of moisturizing dry cuticles or healing a hangnail. This is in a jar, but I like to apply it with an empty cuticle oil stick to cut down on the mess. And I use the
Sally Hansen Instant Cuticle Remover
to push the cuticles back, but probably only once a month.
Probably one of the reasons I don't need as much cuticle care is because I moisturize like crazy. The
Gold Bond Ultimate Healing Lotion with Aloe
is THE BEST OUT THERE. I have tried so many lotions, but this is the best out there. It is thick, fast absorbing and so nice. The
Ayres Body Butter
is something I got in my ipsy bag, and liked it so much I got a full jar. It is a nice thick lotion, with a nice scent, and a little goes a long way. And it is also fast absorbing, which is a must have when it comes to lotion. Usually I apply the Gold Bond before bed, or just when at home and I my hands are feeling dry. I use the Ayres on my way out in the morning. Every time I apply lotion I rub it into my cuticles as well, which is probably what keeps the my cuticles pretty happy overall.
Now for the pampering products. I keep my
Qtica Sugar Scrub
next to me in the shower, and use it around once a week. I use the
Footloose and Fancy Fizz
for pedicures, but also as a soak when I am treating my hands to a full on soak and manicure. And the most amazing find of the year for me, is the
Forever Polished Mani Bombs
, these things are so fun to use as a soak. They bubble and moisturize, and I just absolutely love them. This is the ONLY ONE, I have left. I have to get more during her next restock. Follow her on
Facebook
to find out when the next restock is!
So that's it! What do you think? Do you use any of these products? Have something to recommenced to me? Later this week on Thursday, I'll have my Nail Art Must Haves, which I'm excited to share with you too! I just love posts like these and I hope you like reading them too!