The internet is a wonderful thing! I love how I can instantly upload a mani, get feedback, and then edit! So this is the evolution of one of my latest manicures!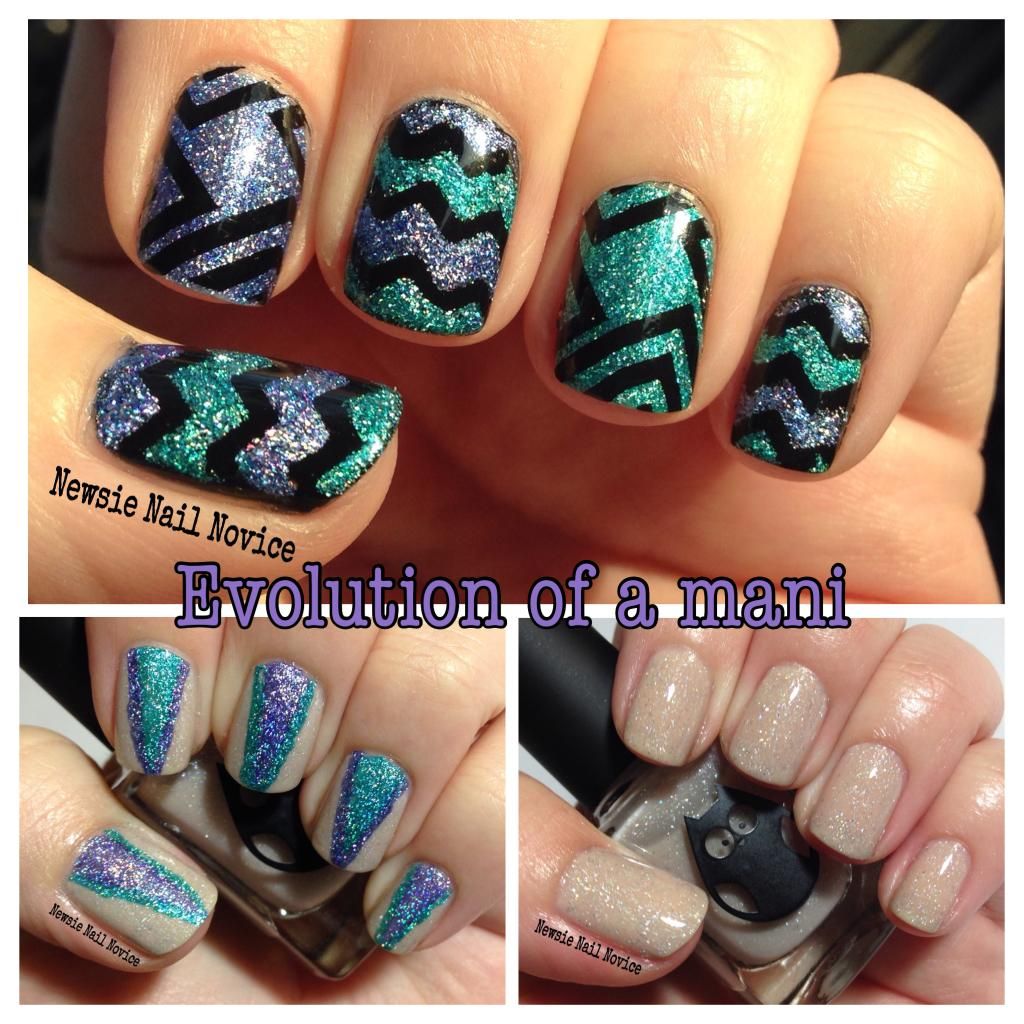 First it started with me trying a new-to-me polish. After my New Year's Eve swatch party of Fair Maiden Polishes, I wanted to find a nice neutral for a fresh start to the new year. So I broke out Anna Gorelova by Dance Legend Kot Baun (Cote Bayun), which after searching the web now I see is actually discontinued. Sorry about that!
Kot Baun is the lovely nude jelly with holographic flakies scattered throughout. This polish is a stunner in the sun as well, catching lovely scattered rainbows and really adding something special to my nails.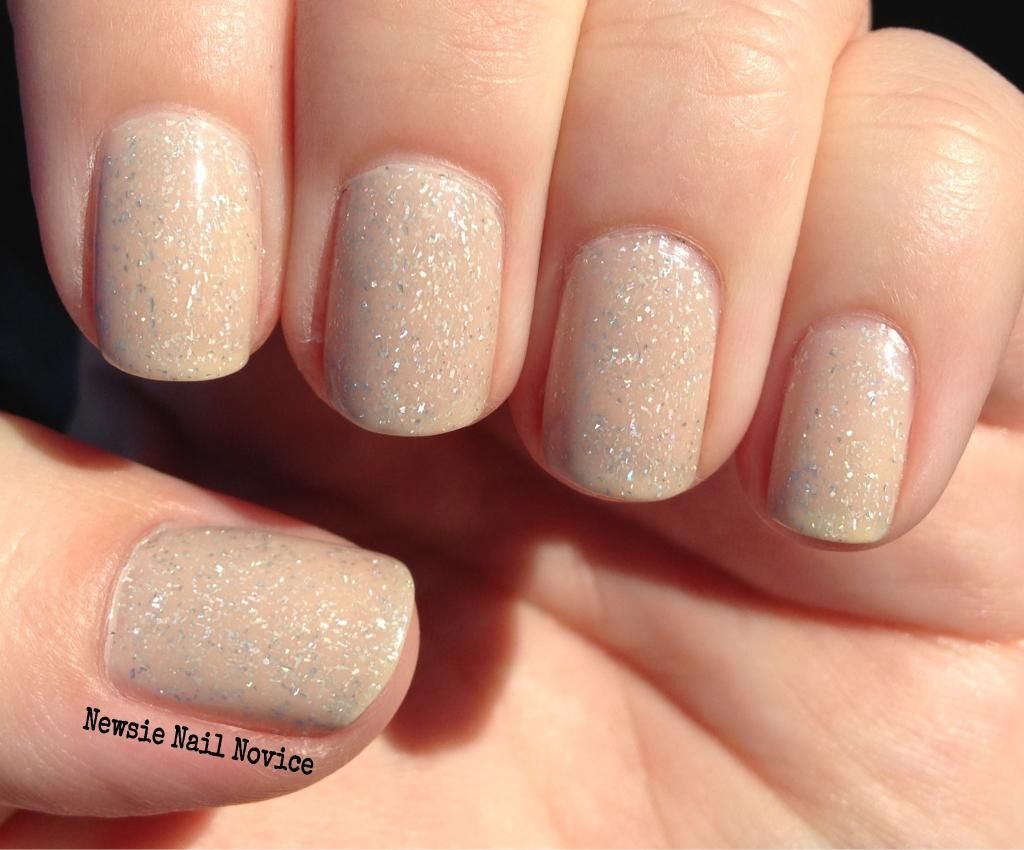 So I wore this for three days, then I thought I've had enough of this palate cleanse – time to get to some nail art! One more shot of this stunner while it is in the shade below!
So since this was a Dance Legend polish, similar to their Wow Prism polishes I purchased earlier last year, I thought they would make a good pair. And combining one of my new year's goals to try new nail art, I did some triangle nail art using nail vinyls.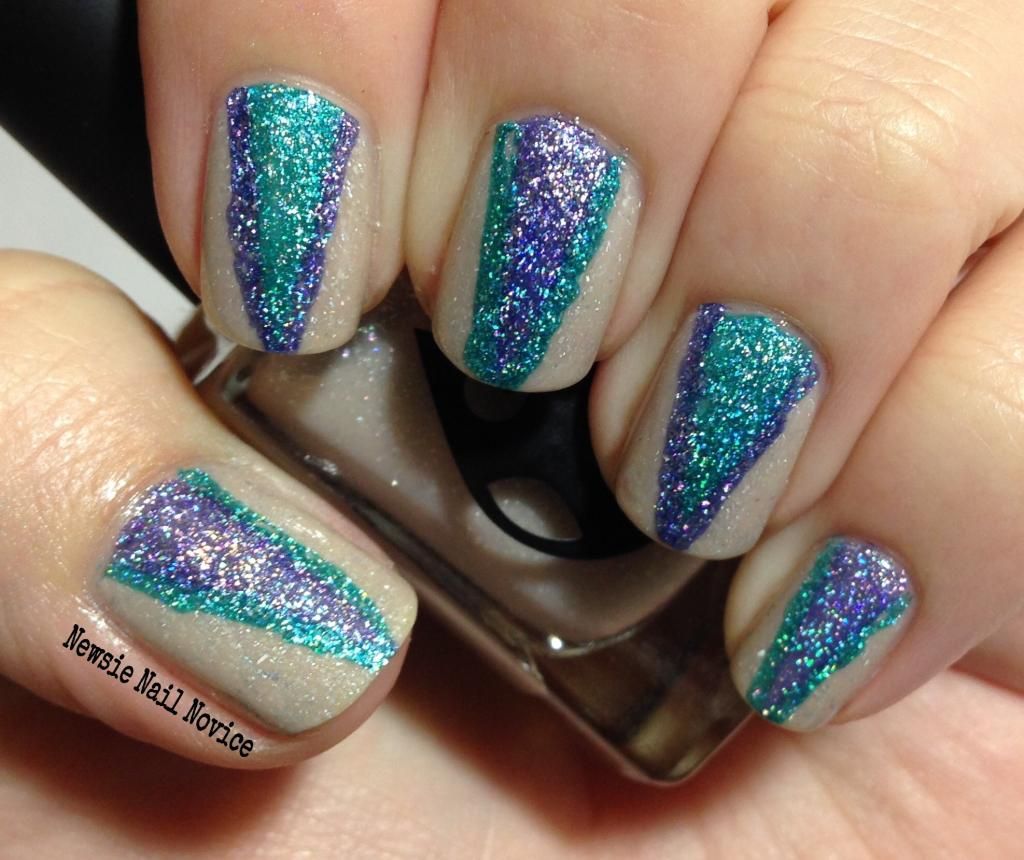 I used Beautiful Lie for the triangles and used a dotting tool to outline the outside of triangle with Holy Diver, to incorporate both of these beauties in one manicure.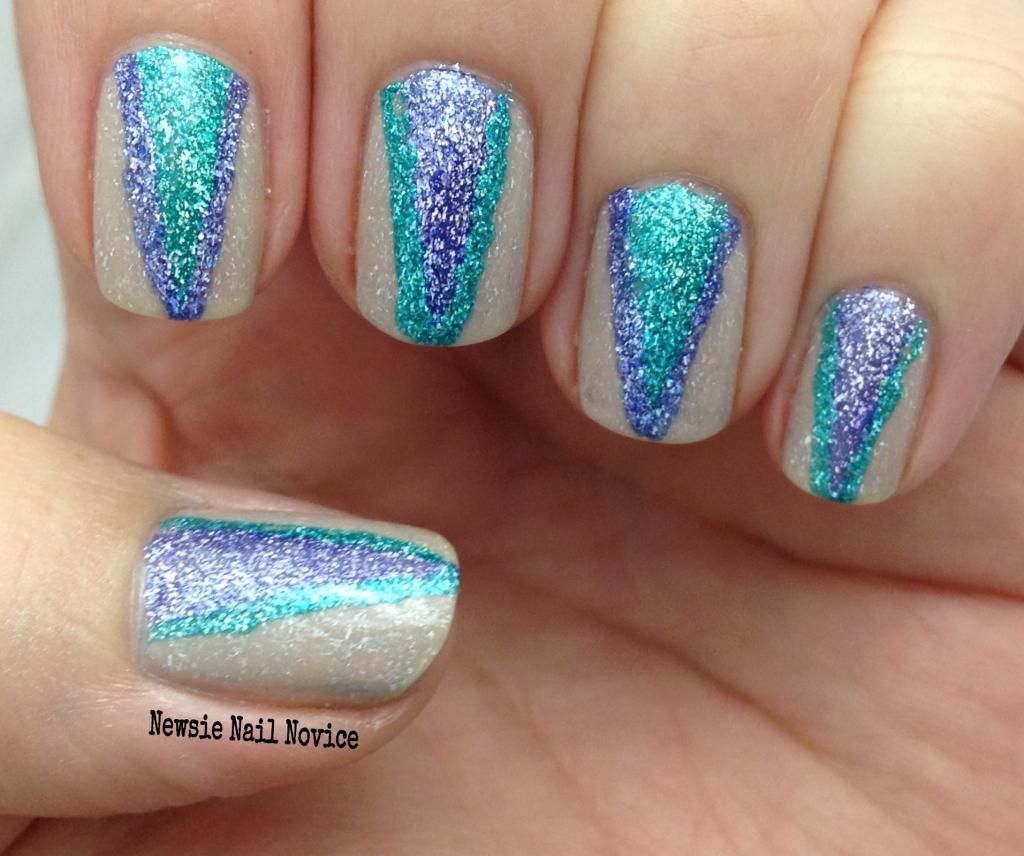 All of the polishes had holo flakies in them, so I thought they would all look great together. But I felt like Beatiful Lie and Holy Diver weren't standing out like I wanted them to! So what did I do? I went to Instagram, posted a photo of the mani above and said, I feel a little meh about this look, what do you all think? And I got some great feedback, about how Beautiful Lie and Holy Diver would look better with a black background to make them pop more, so I put my brain into action and I got to work!
And boy was it a success! I got more likes on this photo on IG than I have had in a looong time! So I guess I was pretty proud! And all because of the great feedback from my nail friends online! So happy the internet can provide instant feedback like that! It is so helpful!
To complete this look, I started with two coats of black polish on my thumb, middle and pinkie fingers. And then I added two thin coats of Beautiful Lie and Holy Diver to my index and ring fingers, respectively. Then I added nail vinyls to the black nails and carefully applied Beautiful Lie and Holy Diver in every other zig zag, to create the multi color look. And then I pulled out one of my newest stamping plates Bundle Monster BM-604 and stamped with the Born Pretty Store Black Stamping Polish (see how crisp those lines turned out!?!) to create the design on the index and ring fingers.
I totally agree that black was the perfect polish to make the bling in Holy Diver and Beautiful Lie pop! I really really loved this look!
And to top this all off, I realized this manicure totally fufilled the nail art prompt in one of my nail art groups on Facebook:
Stamp One, Stamp All Ten!
This group is a super laid back group that poses once a week challenges with nail stamping prompts!
So I'll share the links to the other ladies of this challenge below, so you can view their awesome manis as well! And if this groups sounds like something you'd be interested in, please come join us! Next week's challenge, starting Monday January 12, is a manicure inspired by your favorite vacation!