One of my New Year's Goals was to try out some new-to-me indie polishes and today I get to share with you one of my most recent purchases! These are four polishes from
Fair Maiden Polish
, a newish company on the indie polish scene which has been getting rave reviews from several bloggers I follow!
I chose a sampling of their polishes from several of their collections.
From left to right: Be Your Own Heroine from the Fair Maiden's premiere collection, Sleigh Bells in the Snow and Merry Plum and Bright from the Baby It's Cold Outside Holiday Collection and Times Square from the New Year's Trio.
So on New Year's Eve I found myself with no plans, and my husband was working an overtime shift as a favor, so I thought it would be the perfect time for a swatch party and Fair Maiden Polishes were the ones I decided to play with!
First just a note about these polishes, they were all fantastic formulas which I had absolutely no problems with. I was very impressed for such a young indie brand. I've shown each polish in the shade and under direct light. So let's get to the individual polishes!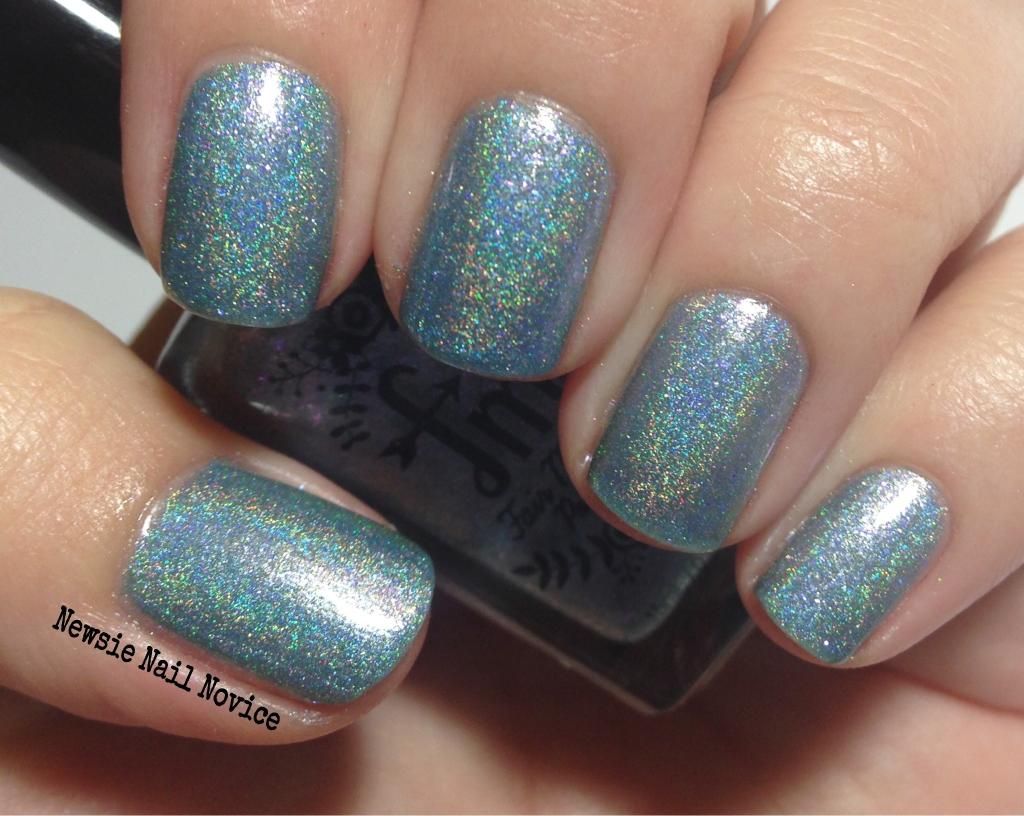 This is
Times Square
, which is a beautiful light blue linear holographic polish with the most unique pink microflecks, giving the polish even more beauty. My photos did not quite capture the pink/violet flash this polish has, but trust me it is there and it is beautiful. This polish was a bit sheerer than the others, so I used three coats for this opacity. It retails for $10.
This is
Merry Plum and Bright
, which is on sale for $7 at the moment while supplies last since Kirby at
The Mercurial Magpie
named this as one of her top 20 polishes of 2014! I can see why this was a favorite, this polish was my favorite of the four I bought. This polish is a gorgeous plum/violet linear holo with the most spectacular gold flashes, making it truly a unique polish in my collection. I used two coats. Normally, this isn't a color I would gravitate toward, but I just loved this polish so much. I'm sure you'll see it on me again at some point in a nail art post!
Next up is
Sleigh Bells in the Snow
, which was the polish that originally attracted me to Fair Maiden Polish. This is a gorgeous snowy white polish, with these hidden sparkles that you can catch in the light. I tried to capture it, but there is so much to see there! This polish was a little thicker than the others, but was not difficult to work with. This is two coats. Retails for $9.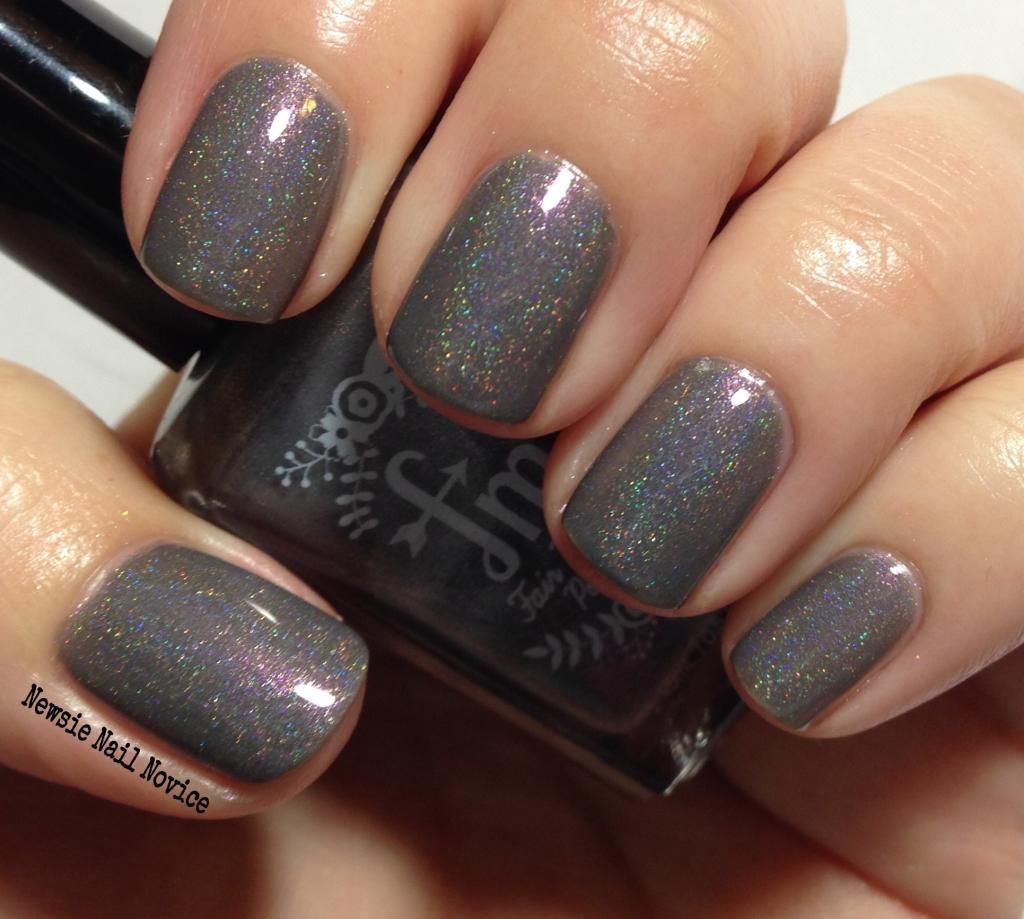 The final polish is
Be Your Own Heroine
. This was a gorgeous dark grey linear holo with pink/violet microflakies which gives the polish a lovely violet glow. This was another gorgeous unique polish with a great formula, this is two coats. Retails for $9.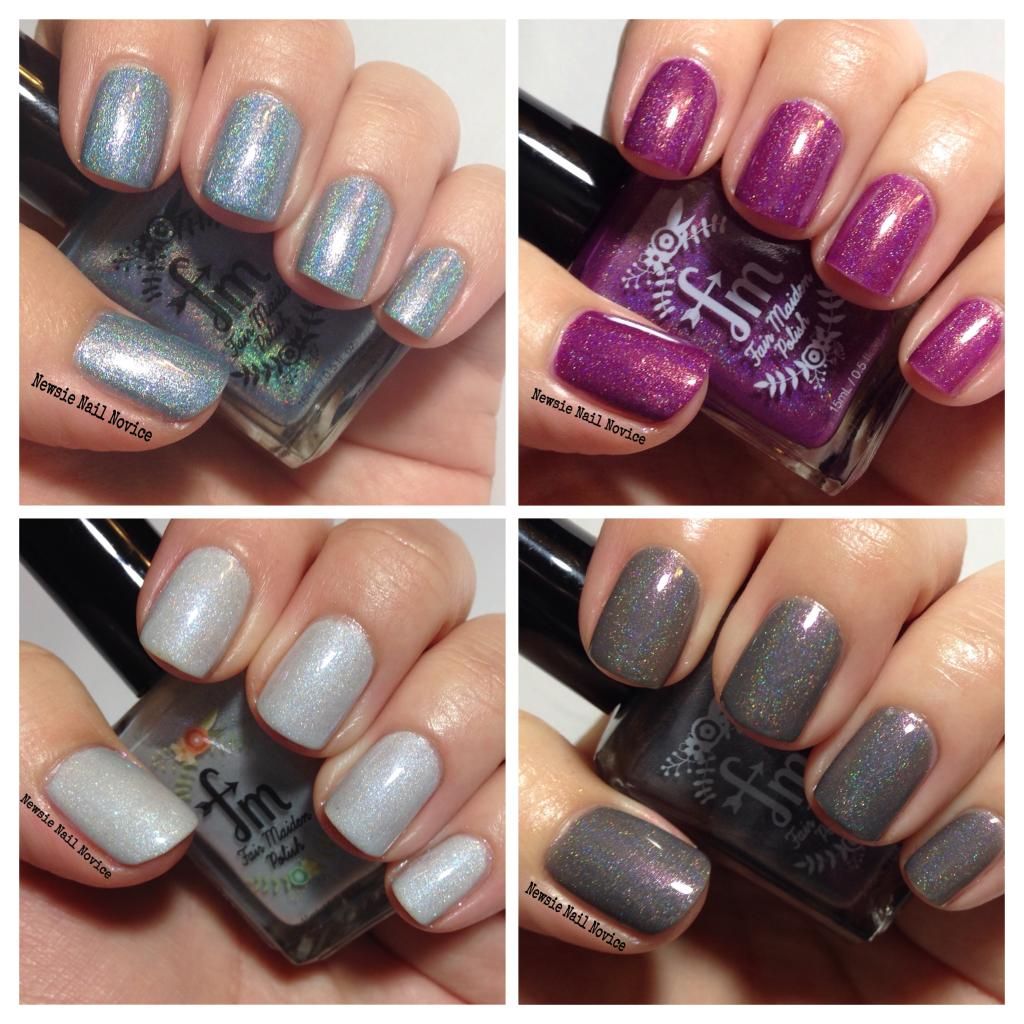 Overall, these polishes are super impressive and I can see myself using them all in the future in nail art! So don't be surprised if you see them in a post again sometime soon.
Now as I type this (last night), they are low on stock and even out of Times Square. But they do schedule restocks and I suggest you follow them on their social media channels (
Facebook
,
Instagram
) to keep up to date. I can't wait to see what they have planned for the future, because so far, these polishes are unique and not like other things I've seen out on the indie market!
Have you tried Fair Maiden? Which of these is your favorite?