Coral is definitely one of my favorite colors to polish my nails. It's a bright warm color that looks good on many skin tones and always reminds me of warm weather and sunsets. So before doing my most recent manicure, I decided to pull several colors from my collection and put them to the side by side test.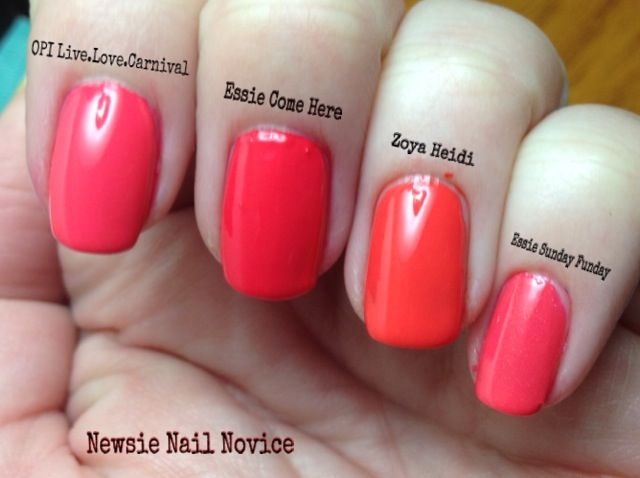 My most recent purchase was OPI Live.Love.Carnival from the OPI Brazil Collection and I wanted to see if I had any dupes in my collection. Turns out, I don't! The closest OPI Live.Love.Carnival comes to a dupe is with Essie Sunday Funday, but they have different finishes. Sunday Funday has some ultra fine silver glass-fleck shimmer in it.
Essie Come Here, which I have as a mini bottle, is a brighter deeper coral than Live.Love.Carnival and Zoya Heidi has is more of an orange leaning coral. I think Come Here and Heidi are brighter than Live.Love.Carnival, but all the corals look good to me!
Since I had all my corals out, there were two more shades I had always wanted a side by side comparison of because they look very similar in the bottle.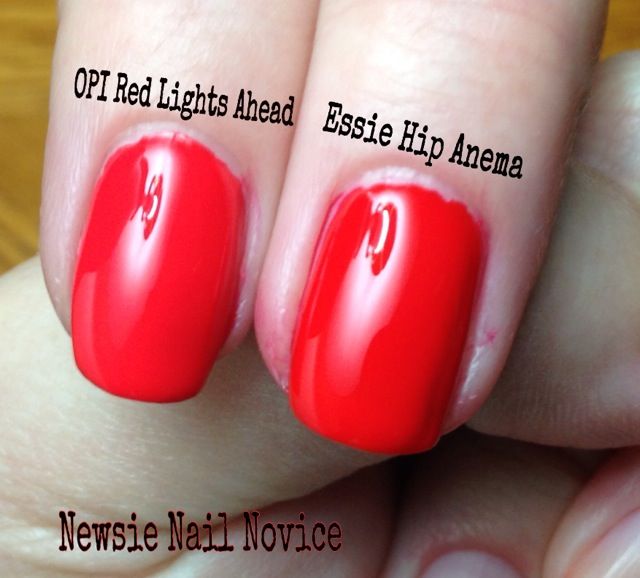 OPI Red Lights Ahead Where, from the Holland Collection has to be one of my absolute favorite nail polish colors of all time. It is a bright coral leaning take on a great red nail polish. Essie's Hip Anema, which I admit I had in my untrieds still, looked so similar. But when you compare them side by side, it is clear that Red Lights is more red and coral leaning, while I feel Hip Anema is more of an orange red and is definitely a darker color. Red Lights feels more bright.
So which coral is your favorite? I really like Essie's Come Here, but the formula in my mini bottle left something to be desired, maybe it needs some polish thinner. I like the oranger leaning coral of Zoya Heidi too, but it was not bright enough. Knowing me, I will be buying colors like this forever! Do you have any perfect corals you can recommend I check out?