Hi everyone! I hope you're all still here an enjoyed the various guest posts I had for you while I was gone. I am truly sorry I haven't blogged this week (since my guest post on Tuesday). I am suffering some serious jet lag and I am all sorts of messed up!
So my trip was crazy and epic and amazing and I feel so fortunate I was able to go. Basically the my husband and I went on a cruise that departed from Copenhagen, Denmark and visited Oslo, Norway; Gothenburg, Sweden; Warnemunde/Rostock, Germany; Tallinn, Estonia; St. Petersburg, Russia; Helsinki, Finland and Stockholm, Sweden.
Above is a photo of me and my husband in Helsinki, one of our favorite stops on the cruise!
After the cruise we spent a week in the area of Munich area to visit Mike's sister, her husband and my two-year-old niece! It was such a great time! Aren't two-year-olds great? They love absolutely everyone instantly. I wish people could be like that all the time.
Just to note, my niece is in mid-yawn in this photo, which is why she looks so silly while the rest of us are smiling on key for this photo.
Anyway, to get back on topic, let's talk about nails! Nails while you are traveling is a tough thing to get through! You want to make your manicures last as long as humanly possible.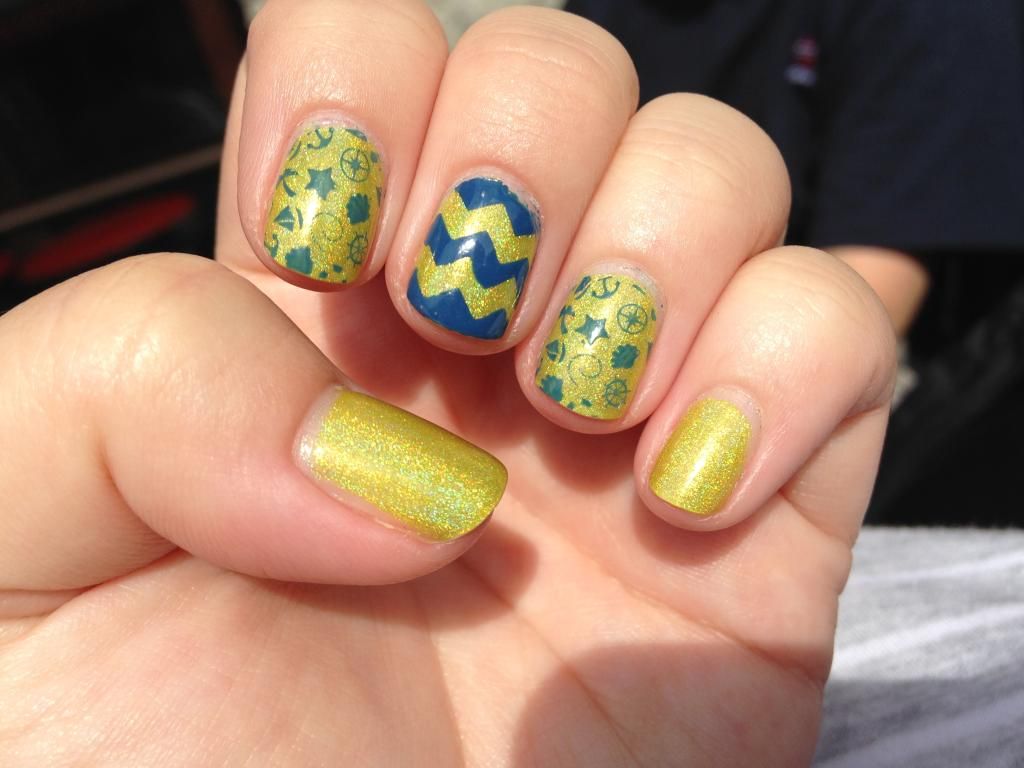 I went over with some great nail art that reminded me of a boat, because yes, I was going on a boat for 11 days. I don't know what led me to the yellow and blue colors, but one fellow IG friend of mine aptly pointed out that they are Sweden's colors, so it was appropriate.
For the above mani I used
Smitten Polish's
Nuclear Sunshine and a Zoya blue color (of which I cannot recall for the life of me). To make this manicure last, I used my
Vinylux Weekly Top Coat
. I've never been able to to a proper wear test with this top coat, but it did indeed last seven days. It never chipped, I just needed a fresh manicure after the seven day's times. I was very impressed with the Vinylux top coat and would definitely suggest it to people looking to make a manicure last longer than usual.
The next set of nails I tried was my
Incoco Nail Strips
, which are made with real nail polish. This was my first time using nail strips, and I definitely wasn't accustomed to application. I thought, "why not add a top coat to make it last longer!?" Bad mistake. For these nails lasted only 24 hours because the quick dry top coat made the edges of the strips curl up and get caught on every thing, which of course, created a premature chip.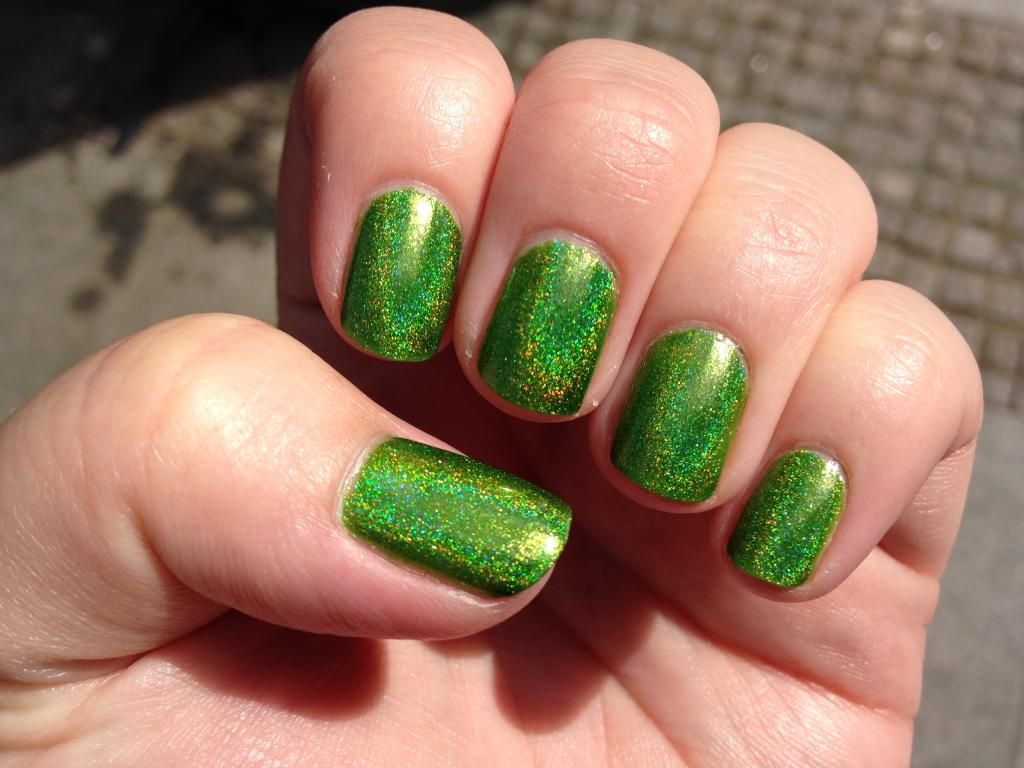 So I broke out another nail polish I brought with me. Smitten Polish Girl Sprouts. This is a gorgeous bright lime green holo! This polish, paired with
KBShimmer's Clearly on Top Top Coat
, lasted me another week! Which I was so pleasantly surprised to discover! No need for Vinylux, just need a good quality top coat like KBShimmer's Clearly on Top!
Also while on my trip, I put on KBShimmer's
Run It's The Coppers
, but I did not get a shot of that as it was never sunny when I wore it, and chipped prematurely because of time in the spa and carelessness on my part.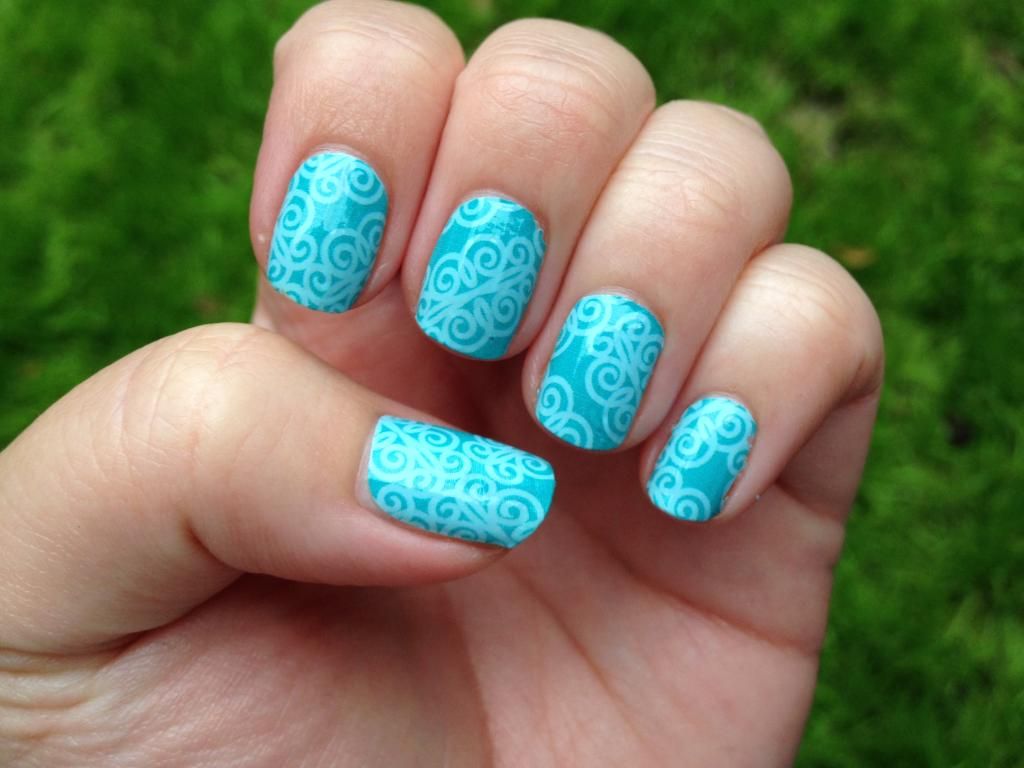 So I tried out my Incoco Nail Strips again, this time with no top coat. It definitely lasted longer, but I changed it up after three or four days because I wanted to try some of my international purchases!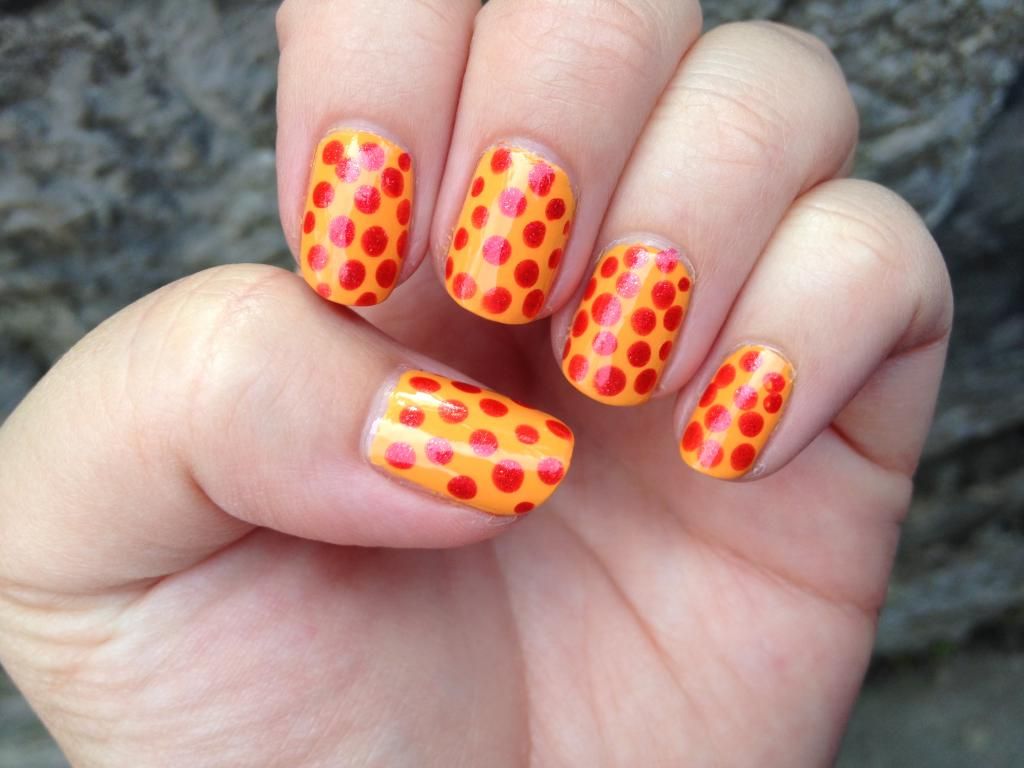 And finally my trip ended with these, what one IG friend of mine said look like Pepperoni Pizza nails. Hahaha, which was not my intention at all. This is using my Kiko polishes I picked up in Germany!
Speaking of polishes I picked up, here is the display of new to me brands I purchased while overseas.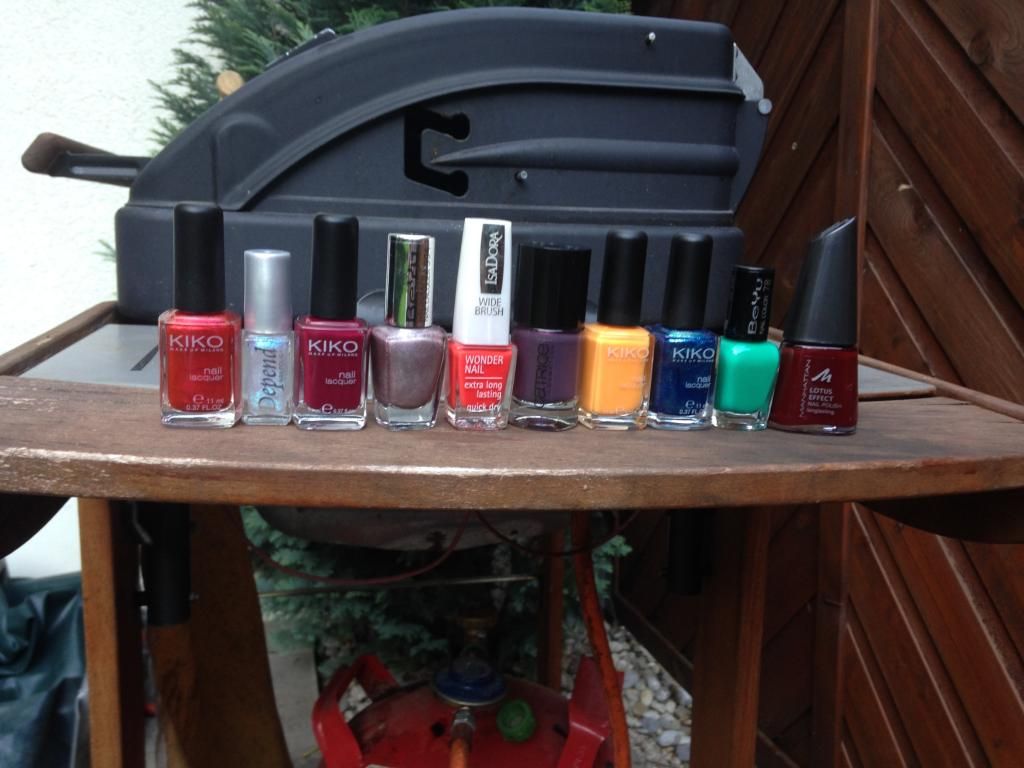 We have Kiko, Depend, Be You, IsaDora, Catrice and Manhattan. I saw other brands too, but I wanted to keep my purchases to a minimum. Unfortunately while in Russia, I was on tours and there was no time for shopping for nail polishes – so I wasn't able to add to my Dance Legend collection.
Thanks for sticking with me through this lengthy post readers! My trip was a blast and I hoped you liked my description of it through my nails! I'll leave you with one more photo of me and my husband in Regensburg, Germany.