Wow are flakies all the rage these days! Flakies, flakies everywhere! Everyone seems to be under the flakie spell lately and I am definitely no exception!
Today I am sharing with you three new
Indigo Bananas Holo Chrome Flakie
s
which I totally had the luck to win in
The Mercurial Magpie's
Holiday Hullabalo!
I'm not going to lie, it is super late here (I'm typing this the evening before the post goes live), midnight in fact. But I couldn't sleep without delivering the magical flakie goodness! So I goof on typos or am a little loopy, please forgive me!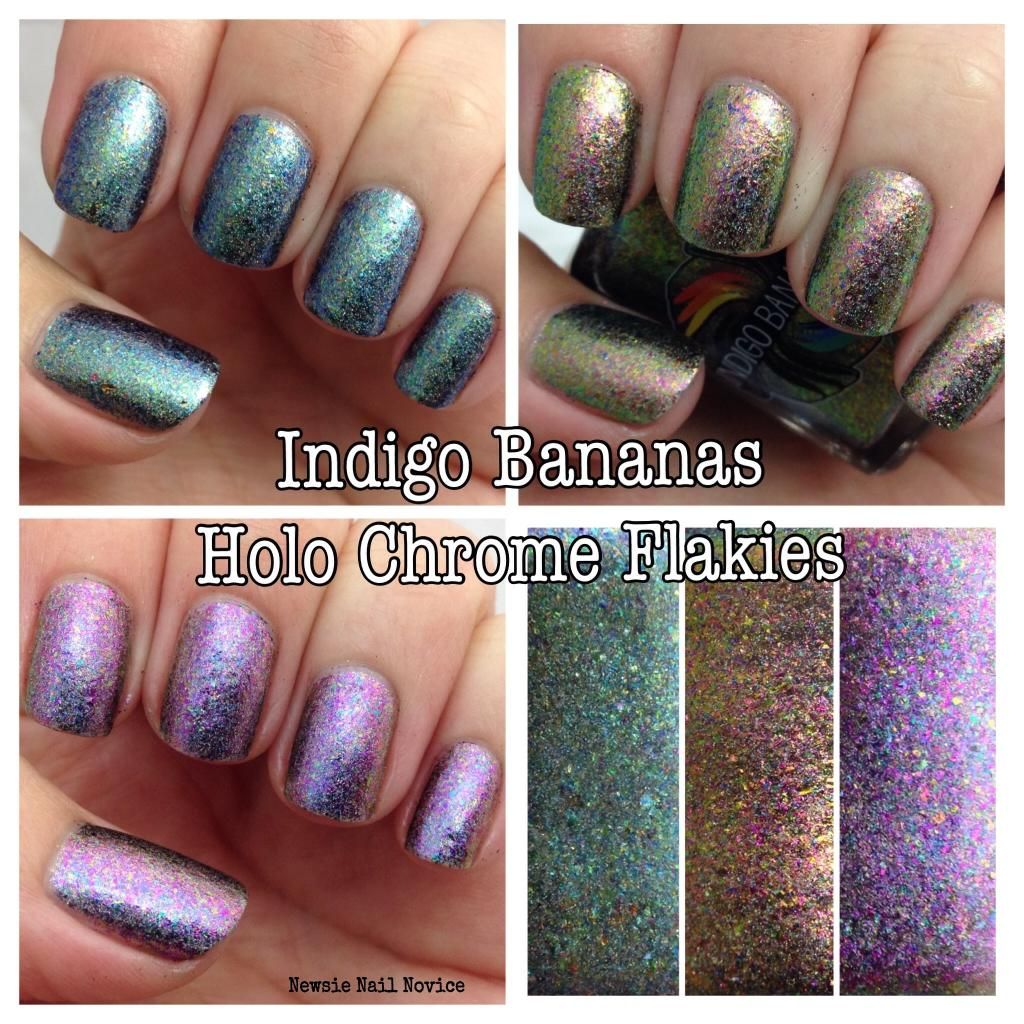 Anyway, on to the review. These aren't just your typical flakies, these are holo flakies, taking the whole flakie craze to the NEXT level. And since it's holo, you know I had to jump all over that!
Formula wise, these were all a pleasure to work with. Each polish was packed with various sized chrome flakies (there were a few stray larger pieces, but not too many that stood out) and the formulas were all very easy to work with. Removal was a breeze too, just like a creme polish practically, nothing like a gritty glitter.
Indigo Banana's Chrome Flakies Collection
features four different polishes (three you see here) in both holo and non holo versions. The three I have here are all the holo versions. I have a close up (because let's be honest, I don't have the equipment for a macro) of each polish in the bottle, a shot in direct light and a shot in shaded light. These polishes all retail for $12 (15ml) and $7.25 (8ml). That is one of the things I love so much about Indigo Bananas, they always have their polishes available in a mini size, so if you aren't sure the polish is the right fit, you can pay less for a smaller amount.
Anyway onto the individual polishes.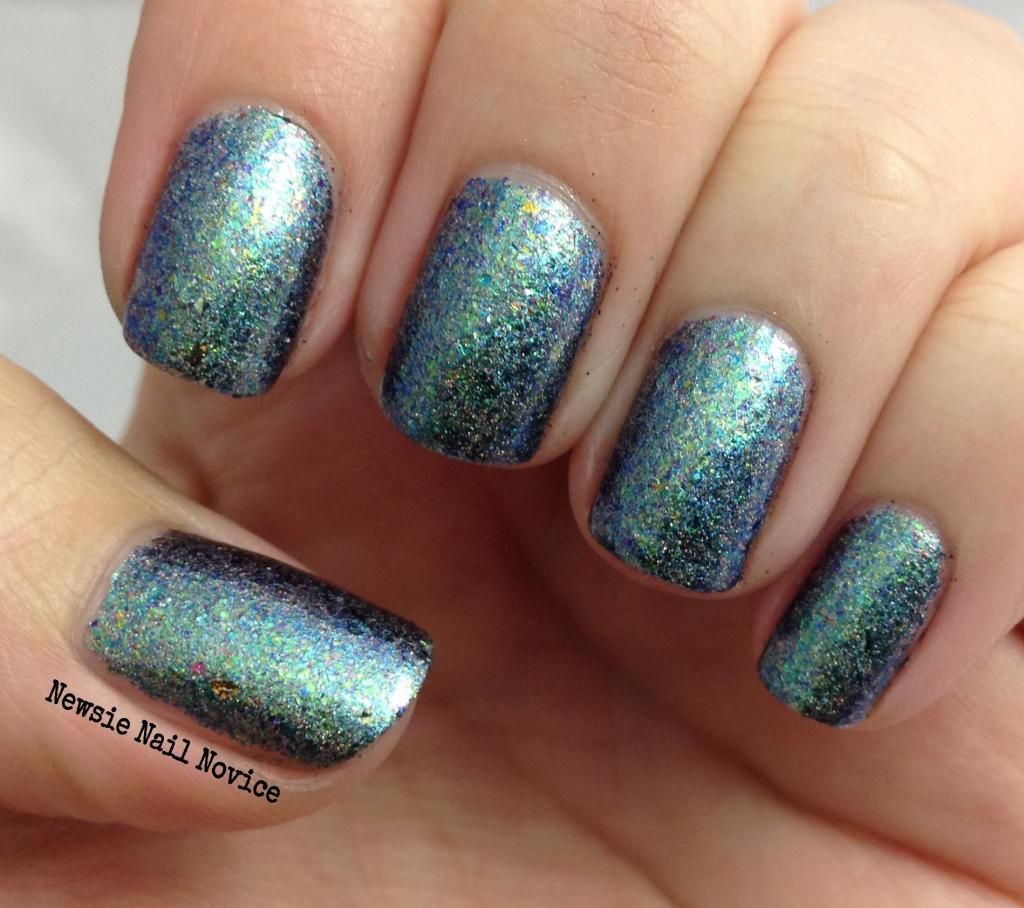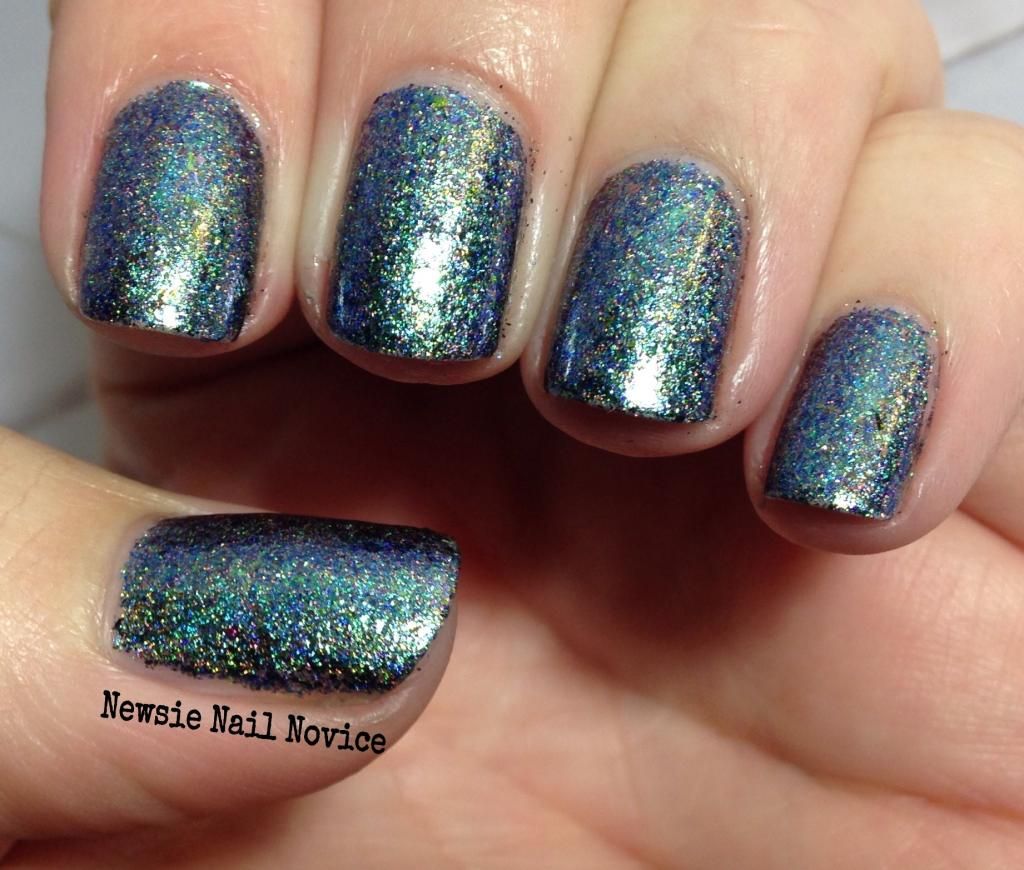 Event Horizon (Holo) is a green-blue to purple chrome flakie polish with linear holographic glow in direct light. I found this polish to be opaque in two coats, but added an extra one just for the extra flair. I looooved this color, it definitely felt aquatic to me, so you will most definitely see this in an ocean-themed mani in the future!
Accretion Disk (Holo) was the most complex of the three I got to try. This polish hosted multi-colors of chromes, and almost translated to a full rainbow on the nail. Under direct light you see green, a rosey-copper and gold shifts with the holo bling thrown in for full measure. This was my favorite of these three, and the one I reapplied after swatching all these polishes. Once again, two coats for opacity, three for extra bling!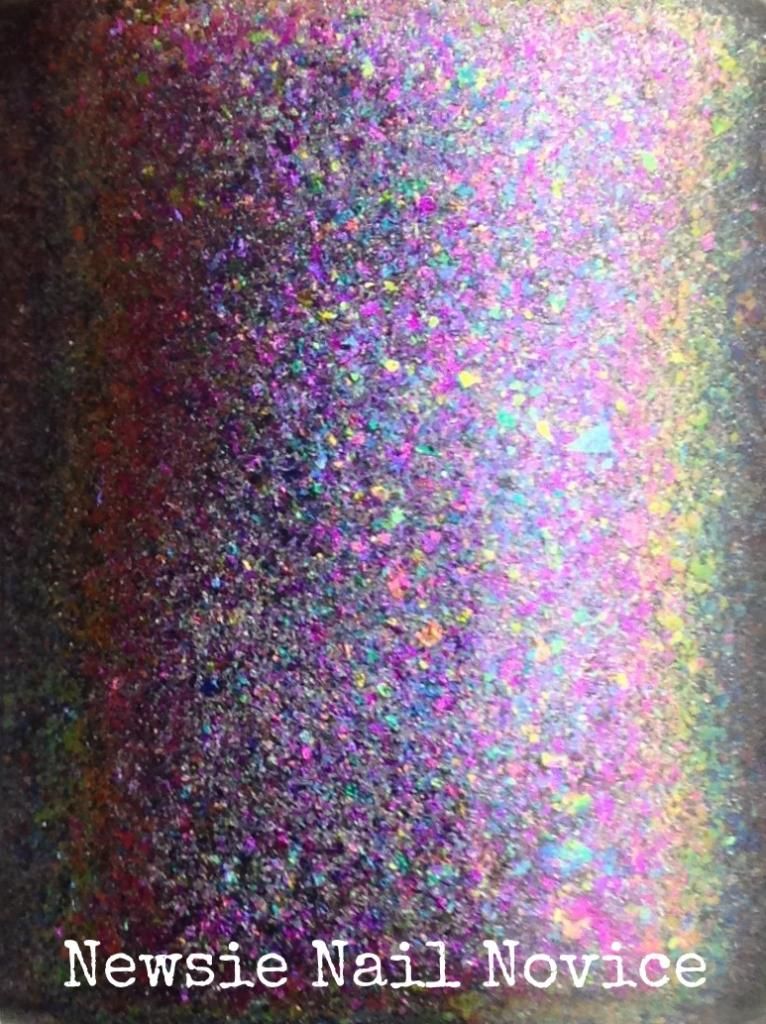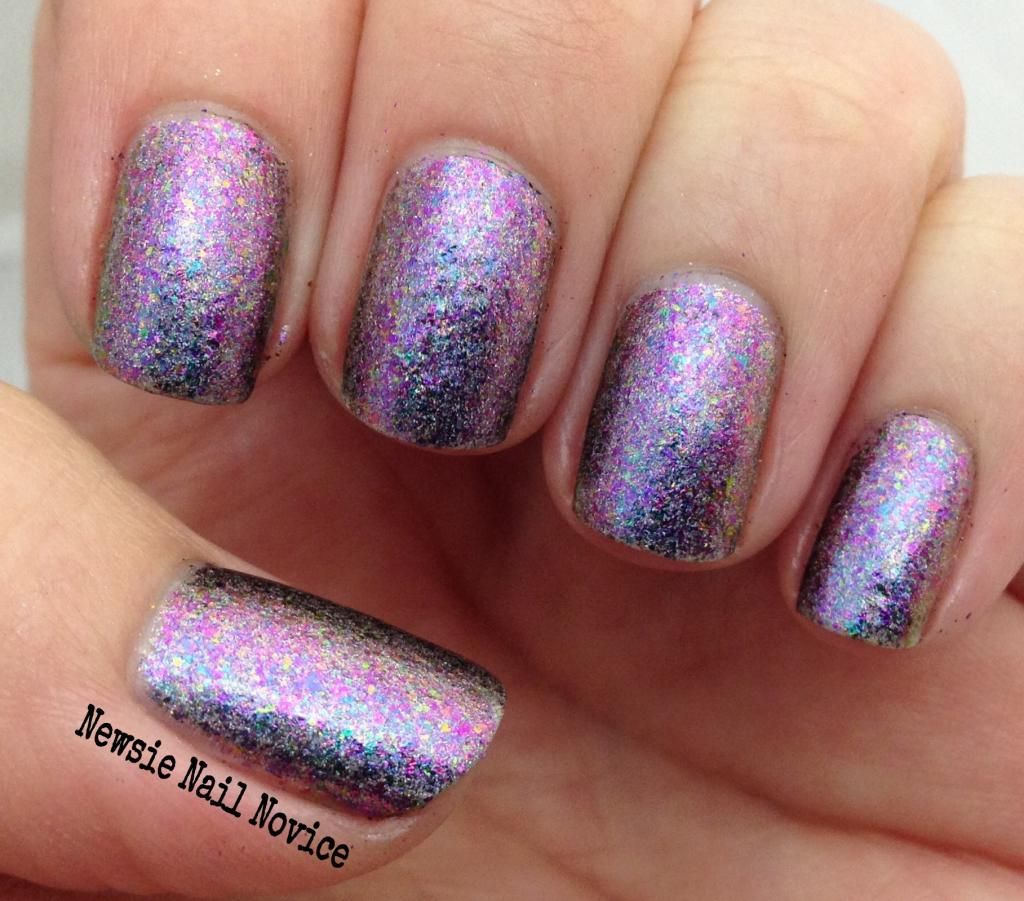 Galactic Halo is a royal purple to radiant orchid multichrome flakie with hints of gold and copper at certain angles. Under direct light, this is mostly royal purple, but still very complex! This one seemed to require three coats for full opacity.
The Indigo Bananas website says that these polishes are meant to be worn on their own, but can be used as a topper, so I wanted to see how that looked. These are rough and dirty swatches I did on three fingers so you could see the polishes and their shifts side by side. Once again, I'll share one shot in direct light and one in shaded light. The undies I used are OPI Don't Bossa Nova Me Around.
From left to right, Event Horizon, Accretion Disk and Galactic Halo.
Overall I would definitely recommend that you check these polishes out. They are different than your average mulitchrome flakie, and you can order a mini of these polishes if you aren't quite sure and just want to test out the trend. Andrea of Indigo Bananas, as of yesterday I think, released her own line of
Mega Chrome Flakies
, which also are available in mini sizes. The Mega Chrome Flakies, from what I can tell, seem similar to the ILNP Ultra Chrome Flakies, which I
reviewed
a few weeks ago. What she released yesterday is the first of three different releases of her Mega Chrome Flakies!
Which of these is your favorite? Have you tried out Indigo Bananas before, I'd love to hear what polishes you have from IG!!!