I love it when I can use my love of nail art as a way to support my favorite sport teams. My ultimate favorite sports team San Jose Sharks is currently (EDIT: drafted this post on Sunday, now they have been eliminated and I am in mourning) in the playoffs and during the first playoff game, I decided I just had to sport some teal and black nails in support of their playoff stint!
I super loved these nails, so be prepared for a lot of photos of it! This was my first time using nail vinyls, but I think they look so great! Although, I thought this manicure was so perfect, that it almost looked manufactured like a nail sticker or something.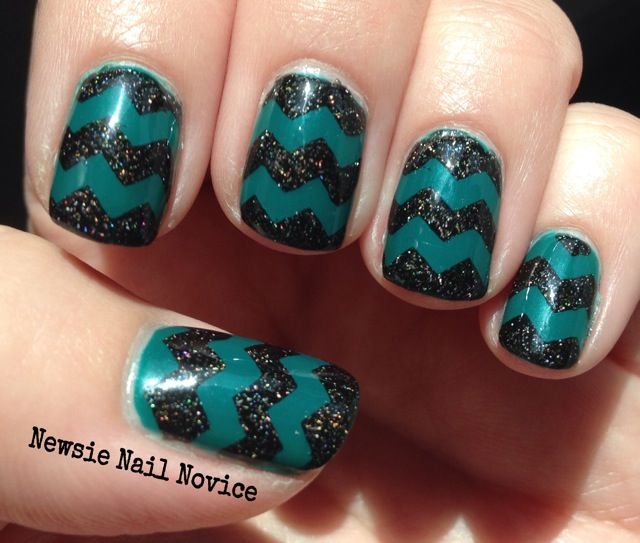 Because I wanted this manicure to last a few days (which usually isn't the norm for me, I wanted this to last for Game 2, which my hubby and I had tickets to) I used a combination of CND Vinylux Weekly Top Coat with a layer of HK Girl Glisten and Glow top coat to maintain shine.
And finally, on my favorite nail community Makeup Alley nail board, we were doing a selfie with our nails day, so I took this pic!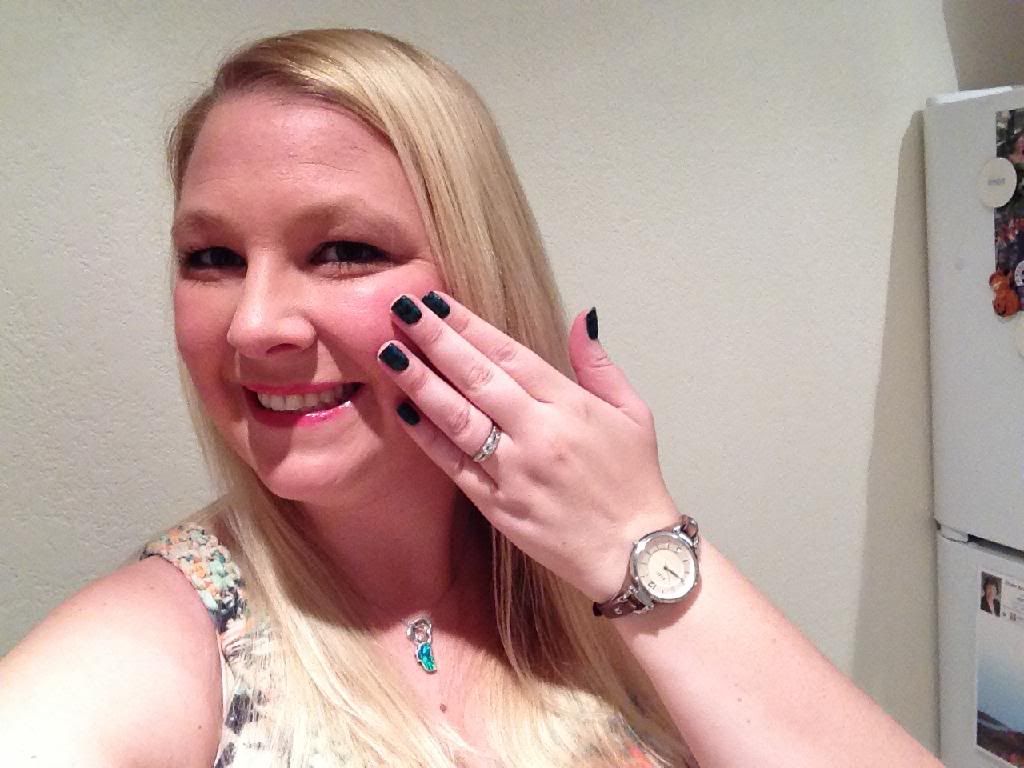 Application:
I used two coats of OPI AmazON AmazOFF, which is the most perfect Sharks teal. But warning, this does stain. Not terribly, but enough that you have to use a lot of remover to lift the stain and the stain might last awhile in the cuticle area, if you accidentally get some there upon removal.
I used nail vinyls on top of the teal (after topping it with a coat of HK Girl Top Coat and waiting a good 30 minutes for it to dry), using tweasers to carefully apply the nail vinyls one strip at a time. Once I had them placed perfectly, I added a coat of Zoya Storm (a beautiful black with fleck holo pieces in it) and quickly removed the nail vinyls before the coat of Storm dried. Once I finished all the nails, I had the beautiful chevron effect.
When I want a manicure to last I usually use CND Vinylux Weekly Top Coat, which does make my manicure last. I find that after a few days, the top coat dulls a bit, so I topped it with HK Girl Top Coat and it maintained its shine pretty well! So when you need a manicure to last longer than normal, I definitely recommend that!
Where to purchase:
Nail Vinyls can be purchased at their
website
and they come in many different designs. I chose regular chevron's and bought one sheet of 100 for $5. I used about 20 for this design, because I did it on all hands, not just an accent nail. I also got straights as well, so I can do some striped designs coming up here!
CND Vinylux can be purchased a various nail supply stores, but it readily available on Amazon.
Here
it is listed for $6.70.
Do you ever combine sport team love with nail designs? What team are you rooting for with your nails?!