Hey everyone, today I have a really fun glitter polish to share with you! I recently learned of a new indie polish maker, Ellagee and her wonderful line dolphin glitter polishes. Yeah you heard that, holographic dolphin glitter!!!!
Ellagee Nai'a is a clear glitter containing holographic dolphin pieces scattered among various teal, violet and red-orange glitter pieces.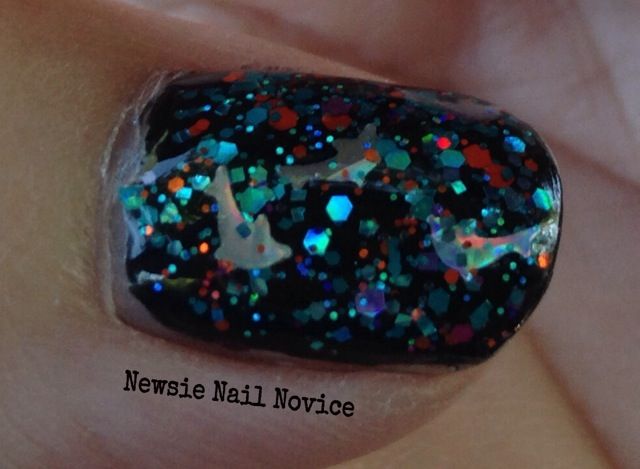 Note: Since this polish is in a clear base, I used about two coats of the glitter over a black polish.
Application: The glitter goes on great, but I did have to fish a little for the dolphin pieces. For optimal application I would do a coat or two of the glitter polish, and when a dolphin comes out use an orange stick to place it how you would like on the nail. The glitter and dolphin pieces do leave a slight texture to the nail, so adding an extra layer of top coat or two would solve the problem. Overall application was not difficult and the payoff was amazing. We are talking HOLO GLITTER DOLPHINS people!!!
Where to purchase: You can purchase Ellagee polishes at her
online store
, with regular size polishes retailing for around $9.75. She has many different types of polishes, including many more dolphin polishes to check out. I ordered a mini-sized sampler set for $16, which is a great way to try out a new indie polish brand. Seriously, you should check out her polishes, there is something for everyone!