I recently just got my first order from Smitten Polish and purchased this lovely blue holo polish. Not quite cobalt, leaning toward the ultimate blue of the year in my opinion.
Unfortunately this was during a phase where I felt like I needed to "nail art" everything I put on my nails. I ended up adding a dotticure of sorts over the polish, but felt like I should have just let the polish speak for itself.
The dots were a Wet n' Wild quick dry white (forgot the name sorry) and China Glaze Son of a Peach (a neon peach color). I've used Son of a Peach on a more recent manicure and I'll expand on my experiences with that polish in a later post – spoiler alert: it's terrible.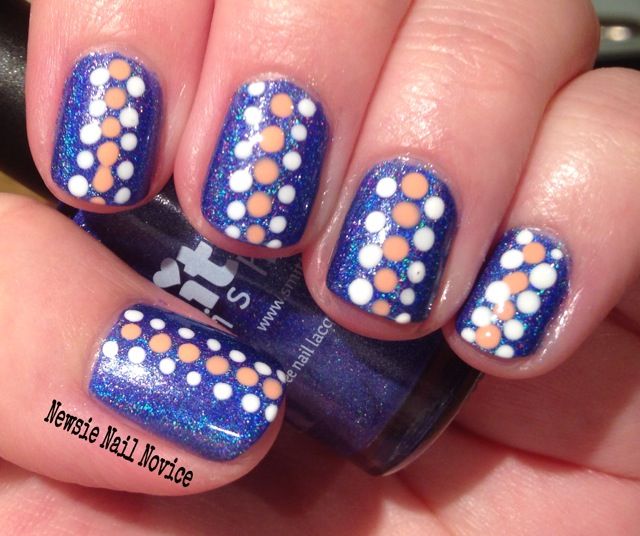 This polish looks great inside and out, I really did like Ker-Bloom. Very unique polish in my collection, was very glad to have purchased it!
Application:
Smitten Ker-Bloom went on perfectly in two thin coats. The consistency of the polish was not too thick, not too thin. The wear time was fantastic, I wore this manicure while going on an impromptu road trip of sorts, and I didn't get a single chip on it. I believe I wore it for close to four days (which is a long time for me). I topped it with HK Girl Top Coat, which has been my go-to lately.
Where to Purchase:
Smitten Polish is available at their
website
, I bought this bottle for $11. I also purchased Glacial Springs (a jelly teal glitter polish) and The First Lobster (a red orange holo), so look out for a post about those soon. Ker-Bloom is currently in stock on the Smitten website.