This polish was a stunner from the moment I put it on my nails – Indigo Banana Maui Wowee.
The polish itself is a periwinkle blue color which boasts a duochrome shift to a beautiful lavender purple. Oh and did I mention this is also a holographic polish?!?!
And not just a little holographic, this polish shines in the sun!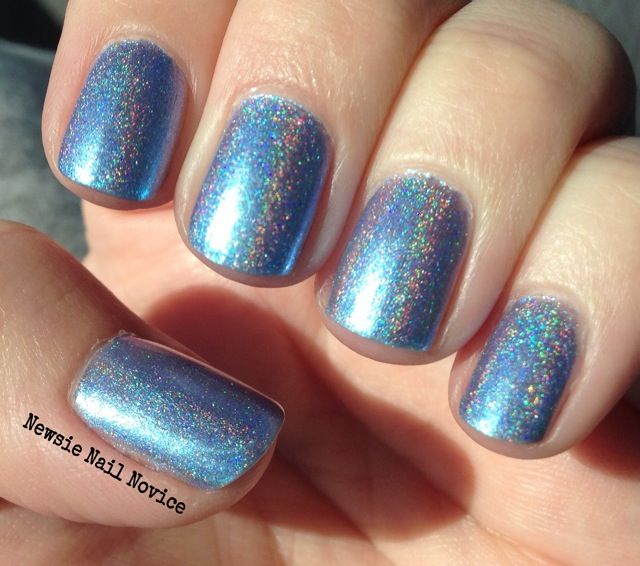 Because this was such a gentle blue-purple polish, I thought this polish would be great topped with a floral stamp, increasing the delicate spring-like feel this polish possesses! I used MoYou Pro Plate 06.
Thankfully, this manicure post falls right in line with
The Lacquer Legion's
monthly mani theme: garden!
It's May, and this month we're growing a Lacquer Legion garden! We want to see your garden inspired manicures, whether that means flowers, fruits, vegetables, insects, critters or anything in between. Feel free to get creative!
Application:
This polish wore beautifully and went on perfectly with two thin coats. The formula on this was really amazing, I wore it for a day or two without the stamping first and then for another day or two with the stamping. I did not want to take it off! This seriously is one of my favorite manicures I've done in quite awhile! I used HK Girl top coat, no dulling effect to the amazing holo!!!
Where to purchase:
You can purchase Indigo Bananas polishes from their
website
, I bought this mini bottle (8ml) for $7.25. I really like their shop because you can purchase mini polishes or large polishes, which is a great way to sample a new-to-you indie polish maker. So far I have loved all of their polishes!
So did you all participate in The Lacquer Legion this month? It was my first time doing so, and honestly it was because of happenstance. I'll do more to prepare next month!!!