As soon as I saw a swatch of Dance Legend Beautiful Lie I knew it had to be mine. It's that ultimate shade of blue that I have been searching for with that wonderful scattered holo finish that I am absolutely obsessed with.
Even in the shade below, the color payoff is still beautiful!
And as an added bonus, I found a perfect blue creme polish that matches perfectly with this polish – Essie Chills and Thrills. This seriously is like the blue of the year for me. It's a lavender leaning blue that is soft but not quite pastel. Very unique. And so I paired Beautiful Lie with Chills and Thrills using some nail vinyls and I was quite pleased with the result!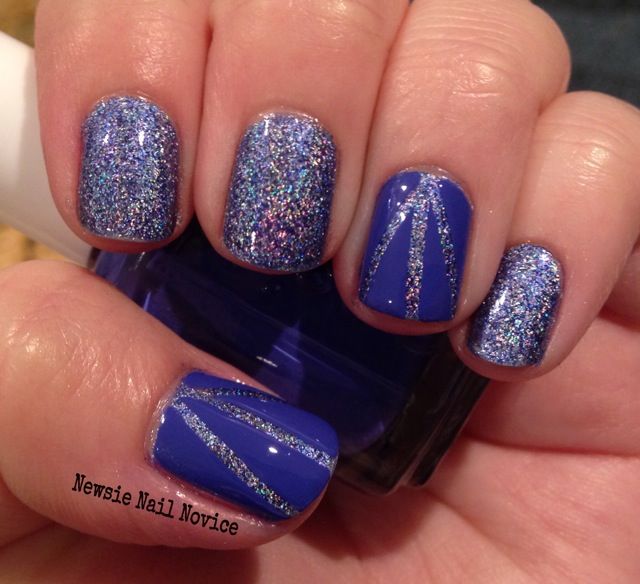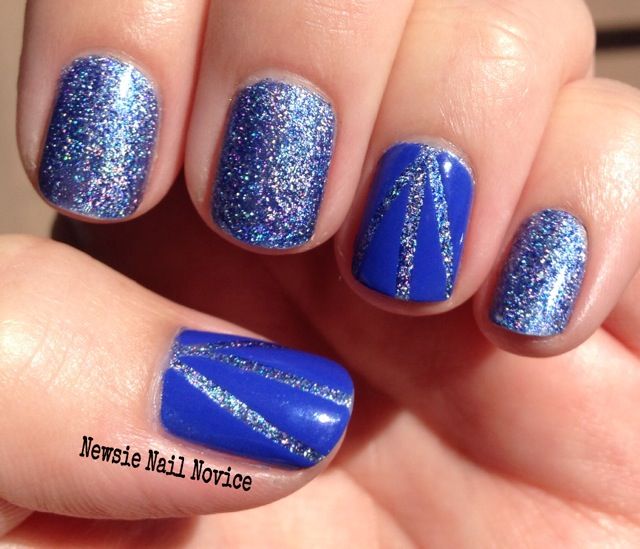 Chills and Thrills is a trick color to photograph. It shows up in my photos more cobalt leaning than lavender, but trust me, it works perfectly with Beautiful Lie.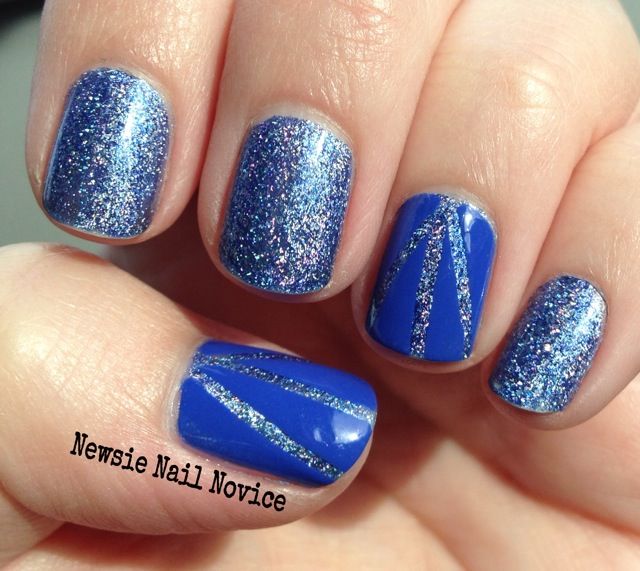 I apologize for some of the tip wear in some of these shots. I really loved this manicure so I wore it for several days!
So on to nail vinyls, they are this incredible invention and they come in various shapes such as straight lines (which I used for this manicure) or chevrons (which I used for
this
manicure). They also come in lightening, single chevron, zebra print and more. They retail for about $6.00 a sheet (which have 100 pieces a sheet). Order them
here
, they are amazing!!! An application tip: use tweezers while applying and removing and make sure to remove the nail vinyls while the nail polish is still wet, you'll get less mess ups that way! Here is a
quick tutorial
that shows how to do this with a gradient (haven't tried this yet but want to!). Totally not my tutorial, but I just You Tube searched nail vinyls before applying for tips.
Application:
As for the application of Beautiful Lie, it went on perfectly in two thin coats. Chills and Thrills was a little patchy (and goopy) and required two quick quotes before removing the nail vinyls. I topped the whole look off with HK Girl Top Coat.
Where to purchase:
Essie polish is widely available at drug stores, online etc. I bought this bottle off of
Color4Nails
for $5. Dance Legend polishes can be purchased through their
website
. I purchased this polish on
Llarowe
. They retail for $13. Purchasing from the Russia site will take a long while to reach the US from what I've heard. Beautiful Lie is currently out of stock at Llarowe, but she frequently restocks.