I was waiting forever to try this polish it seemed like, because after I ordered my multichromes from ILNP, it seemed it was never cloudy in California – therefore not optimal photographing weather for multichromes.
There was scheduled rain recently, so I decided to take a shot and throw ILNP Reminisce on my nails. This is a beautiful medium green that flashes teal when in the proper shading.
I was so excited, I was going to pair this polish with an indie I got at Christmastime but still never had the chance to try.
The accent nail is Gloss n' Sparkle Goblin's Grave and boy was it a headache. I don't know if I just needed to thin it but the formula was difficult to work with. Gloppy and I couldn't get the glitter placement I so desired. After three coats and a lopsided drying job, I sat through a school board meeting only to come home and change the accent nails and add some stamping to make the manicure better.
For the stamping I used MoYou London's Sailor Plate 04, my current favorite plate/brand to stamp with. MoYou is a pricier plate to purchase, but their plates are so easy to use!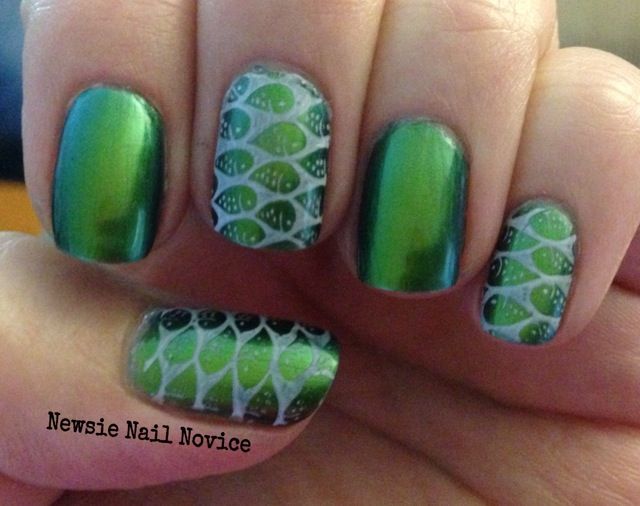 I didn't stamp all the nails so I could still display the color shift of ILNP Reminisce, it even looked great in indirect sunlight (below)!
Application:
Reminisce was a great polish, went on in two thin coats. You could add a third for optimal color shift. These swatches are without any dark undercoat, the ILNP multichrome formula is great. As I said, Goblin's Grave was really hard to work with, that being said, I'm not ready to give up on it yet. Maybe some thinner will do it some good.
Where to purchase:
I purchased ILNP Reminisce from their
website
for $11.50 during presale, it now retails for $12.50. I purchased Gloss n' Sparkle Goblins Grave from
Llarowe
at a sale at Christmas, doesn't look to be available online anymore though. You can find Gloss n Sparkle polishes, an Australian polish company, at their
website
.
Looking ahead:
I just got a slew of nail mail this weekend and am going to be in major swatch mode for the next few days. Need to tell myself not to nail art everything, wearing just one color is ok too!