One of my favorite nail colors is definitely teal. It's pretty obvious as my blog and Instagram feed show, I wear it A LOT. Anyway here is a beautiful teal holo I recently purchased on a whim, and boy I am super glad I did!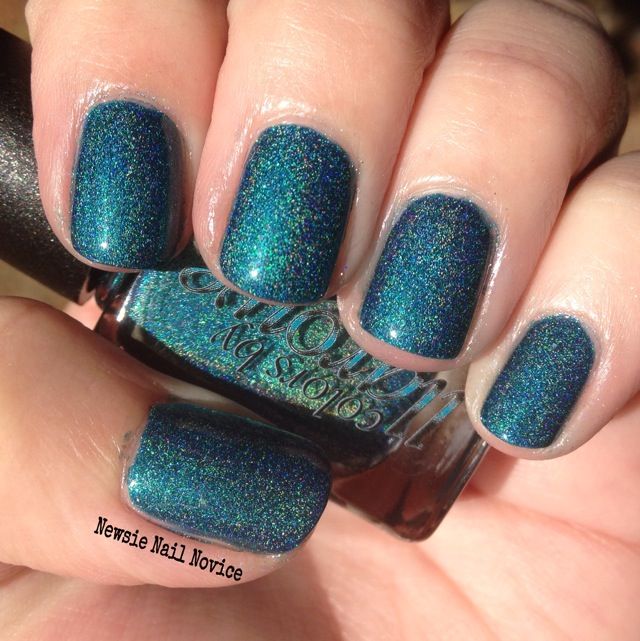 I eventually added some stamps, so here is a quick preview of that!
Anyway, some of the clean up isn't quite finished on these polishes, but I had to run out and see it in the sunshine and I just couldn't wait!
I feel this is a teal that leans blue, in the shade (below), you can see which way it wants to lean better.
To add a little flair and because I love any ocean themed nails, I added some wave stamps (from MoYou Sailor Plate 04) and some fun beachy stamps include a whale (Winstonia 108 plate) and a crab and palm tree (Winstonia 106 plate).
Application:
Unfortunately the formula on In Another Dimension was not great. It was so thick upon opening I had to add thinner to it before even trying to properly apply. I've truly never had to do that with a polish before. Adding thinner did help a bit, but the polish is still quite a bit on the thick side. The polish did wear well (wore on another weekend out of town) and was topped with HK Girl Top Coat.
Where to Purchase:
Colors by Llarowe In Another Dimension was part of their Spring release and they have already retired it. But fear not, Leah Ann has 31 new shades releasing for preorder very soon! I purchased this polish for $12. Colors by Llarowe are available on the
Llarowe website
, along with many great indie nail polish brands.