When I set out to write this post, I think I was going for a whole, look at how much better indies are than this mainstream polish everyone is going ga-ga over. Somewhat of a negative place to start off with.
After actually editing the photos though, Masked Affair actually does stand out in my collection.
I mean just look at it in all it's glory. That is some really gorgeous holo! I think the thing that bothered me most about it was it dulled significantly with top coat. Now I've tried this with several kinds of top coat, so I know this isn't a top coat specific problem. Take a look:
It was the dulling of the holo and the patchy-balding application process which required three coats to be perfect.
So I went to my ever growing wall of indie polishes to see how Masked Affair, with top coat, did against some other indie holos I have that look pretty similar to the color family.
For the polish I chose for this comparison post I have a-england Her Rose Adagio (thumb), a-england Princess Tears (middle), Liquid Sky Lacquer Sugared Berries (ring) and LynBDesigns Make Your Life Spectacular (pinkie).
Here are the colors side by side without direct lighting.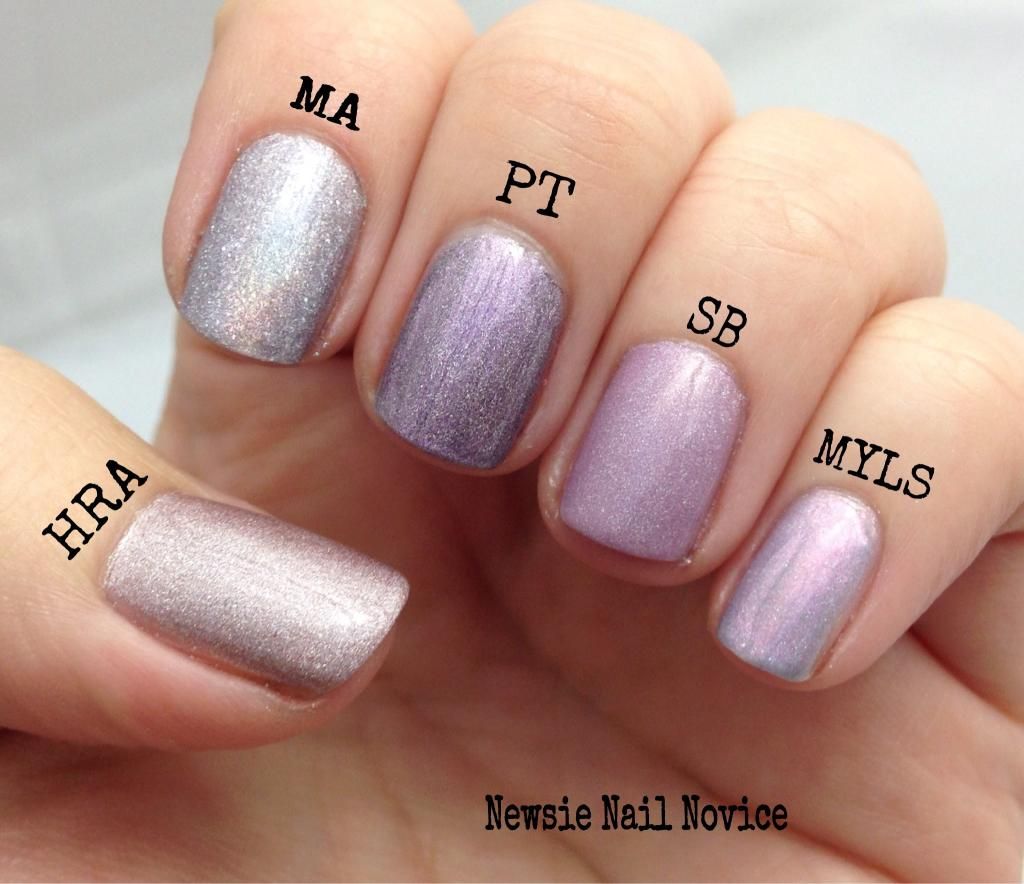 I have to say, Masked Affair stacked up pretty well against these indie polishes. A disclaimer: I don't typically buy polishes in this color range because I'm not a huge pinky-purplish fan, so I am sure there are better examples of why indies that stand up better against Masked Affair, I just don't own them.
I guess the morale of the story here is don't be too down on the polish without comparing it side by side with the other polishes that are similar that you own. In the end, I was actually surprised at how much I liked Masked Affair. Also though, I like a lot of my indies better for how special and unique each one is. Just look at that pink flash in Make Your Life Spectacular, and check out the beautiful creme-y holo in Sugared Berries!
I think I'll keep all of these polishes, but I don't think Masked Affair is a must-have. I know there are so many ladies out there clamoring for it, but stop, take a look at what you have. You might find a special gem in your collection that is similar, but special in a different way!