So Smitten Polish, one of my most favorite indie brands just released a Halloween duo so I decided it would be a great pair to create a Halloween manicure.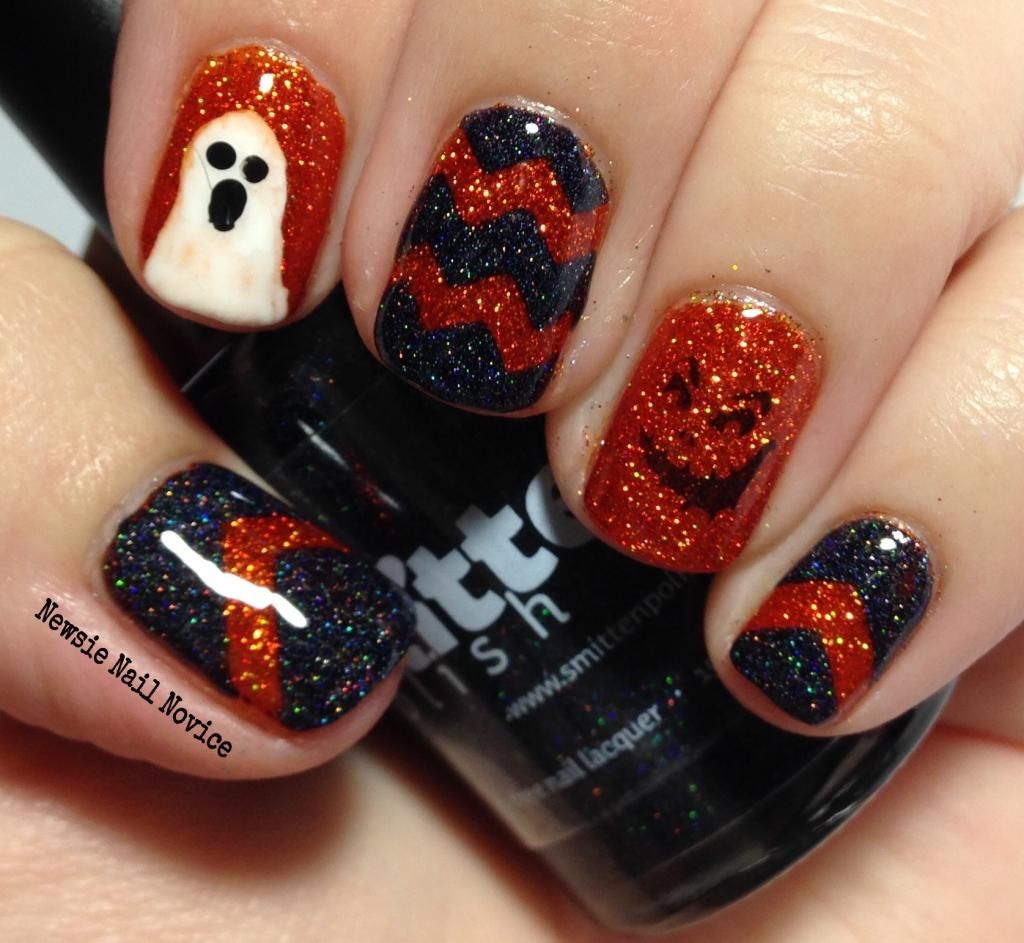 Smitten Polish Fire Burn is orange holographic microglitter suspended in an orange jelly base. I started this look with two coats of Fire Burn.
Next I added Cauldron Bubble, an indigo leaning black microglitter with a scattered holo finish. Cauldron Bubble's microglitter is much finer than Fire Burn's, but they still look amazing together. I used single chevron (thumb and pinkie) and chevron
nail vinyls
.
To keep with the Halloween theme, I stamped a fun pumpkin face on my ring finger and free handed a fun ghost on my index finger.
Application:
Fire Burn is a very hungry glitter and will require an additional layer of topcoat to smooth out. Cauldron Bubble did not have this issue. Both applied super smoothly and were a breeze to work with. The both had a matte finish, so for a glossy ultimate sparkly look, you'll want to top coat these. One note though, Fire Burn did stain my nails, but it wasn't super bad. Just probably want to double coat your base coat before wearing Fire Burn. The stain was gone after redoing my nails three times (I redid my nails an obscene amount of times the night I took these off, see previous post), so the stain would most likely be removed with some extra scrub.
Where to purchase:
These both retail for $9 on the
Smitten Polish website
, but are sold out at the moment. I am pretty sure that Noelie, the genius behind Smitten Polish, is planning to restock this weekend. Follow Smitten Polish on
Facebook
for the most up to date information on her releases!