Checkout this awesome glitter topper featuring Mickey Mouse glitter! This is Sweet Heart Polish Club 33 from the Disneyland or Bust collection.
This polish is a mix of gold stars, green matte and holographic clovers and black Mickey Mouse heads with gold glitter and gold shimmer in a clear base. There is quite a lot going on with this topper, and because of that (and an application issue) I thought I would try it over two different base colors. Above, I painted two coats over Zoya Tracie and below I painted two coats over Essie The More the Merrier.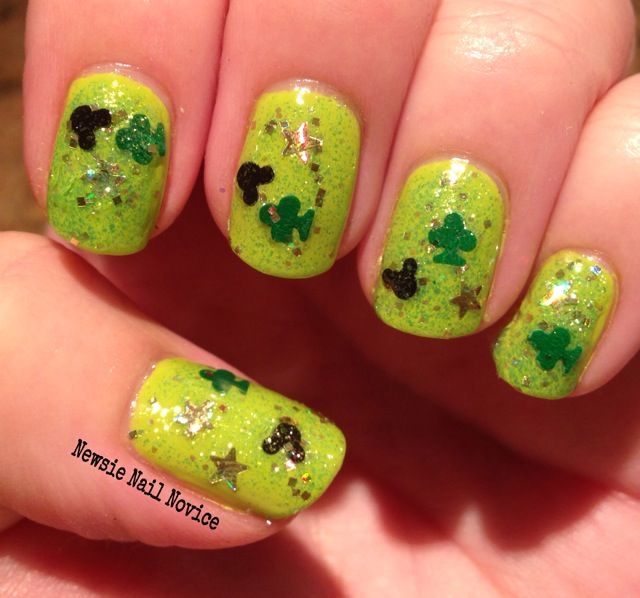 Application:
This polish was on the thick side and you did have to fish for the bigger glitter pieces (the clovers and the Mickey pieces), but I think the unique glitter pieces make up for it. The final product looks great and heralding from Southern California, anything Disney and I'm a fan! I think I liked the topper slightly more over the light green Tracie polish than over the lime green The More the Merrier polish.
Where to purchase:
Sweet Heart Polishes retail for $9-$10 and you can purchase them from her
Etsy shop
! The Disneyland or Bust collection features a number of glitter toppers featuring the Mickey glitter and some bow glitters as well!
This polish was provided to me for my honest review, and here you have it!