Yes my friends, a company took a chance on me and sent me some samples to review. My very first indies to officially review!
I came home last week, feeling a little defeated and disenchanted (I am covering local school graduations for the umpteenth year in a row) and I went to the mail box. Now since I'm on a no buy, I knew I wasn't getting anything fun in the mail and low and behold there was a box in there with my name on it!
Totally got so excited that a company, any company wanted to take a chance on me!
So today I am reviewing one of the three polishes she provided!
Clementine, from Sweet Heart Polish's Garden Party collection, is a holographic light berry polish with hit of purple holographic glitter mixed in.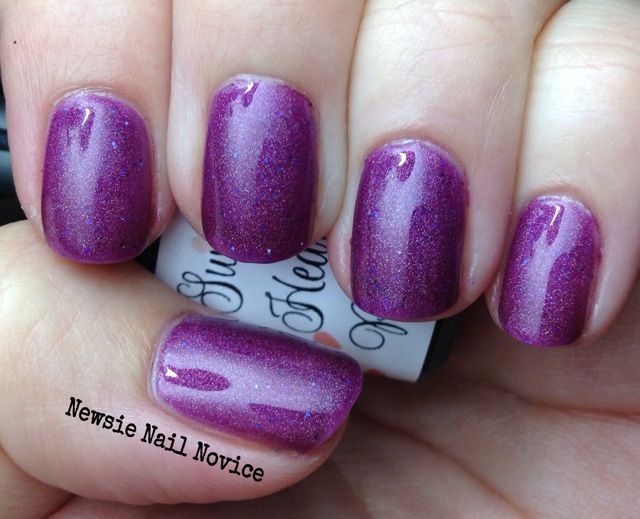 In direct sunlight, below, the purple microglitters are harder to spot, but I absolutely love what they do to the holo of this polish. The microglitters are what set this polish apart! So you know what to look for, I took a shot in unnatural light, above, which highlights the purple microglitter.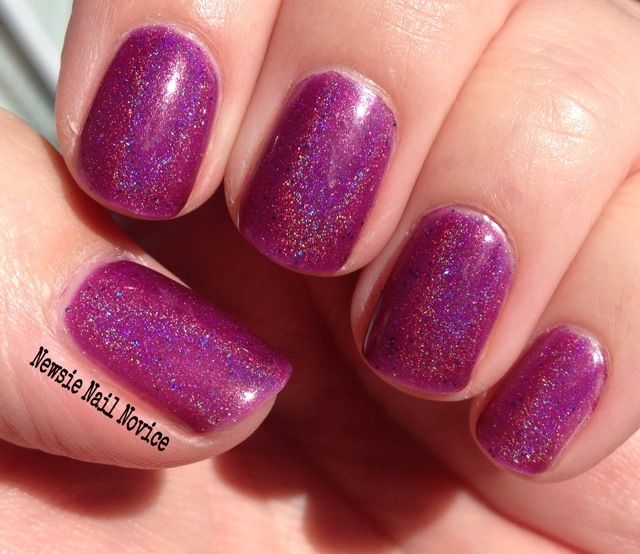 Overall, this polish was a hit on the nails!!! It's a color I don't have in my collection and the addition of the microglitters make the holo shine the most vibrant violet! Love it!
Application:
The polish was on the thicker side, but not unmanageable! Typical for most holo finished polishes. I used three thin coats, two will probably suffice, but there was a little visible nail line so I used an additional coat. There was no dragging and the polish was easy to work with, even with multiple coats. Very gel like in consistency.
Where to purchase:
Sweet Heart Polishes retail for $9-$10 and you can purchase them from her
Etsy shop
! The Garden Party Collection features and array of beautiful floral themed holos that are just beautiful. She also has Mickey Mouse polishes, but more on that in a later post!
This polish was provided to me for my honest review, and here you have it!