Today, while keeping it nail related, I am going to share another part of my life. My life as a volunteer. I am a member of my local Kiwanis Club, a community service club, and it is a part of my life that I love.
Each year, our club helps put on the Kiwanis Special Games. The Special Games are put on for nearly 1,000 Santa Clara County special-needs students. What sets apart the Special Games from the Special Olympics is that no one is excluded.
These games were specifically tailored to showcase and celebrate these athletes' abilities. Events range from the 100-yard dash to dropping a bean bag on a target. This is the day the athletes' celebrate what they can do, and the results are humbling and amazing.
So you can partially understand how amazing this day is, I'm going to share some photos from the event. These photos are courtesy of my gracious co-worker Ellie Van Houtte!
To begin, the athletes parade around the track with their respective schools while each name is read from the loudspeaker. It's an exciting moment for everyone involved!
Here the athlete receives a ribbon, above, after competing in Hit the Cans. Just a note the yellow shirts are the volunteers who help run the games and the blue shirts are the athlete supporters (usually teachers and aids from their schools). The athlete shirts this year were green.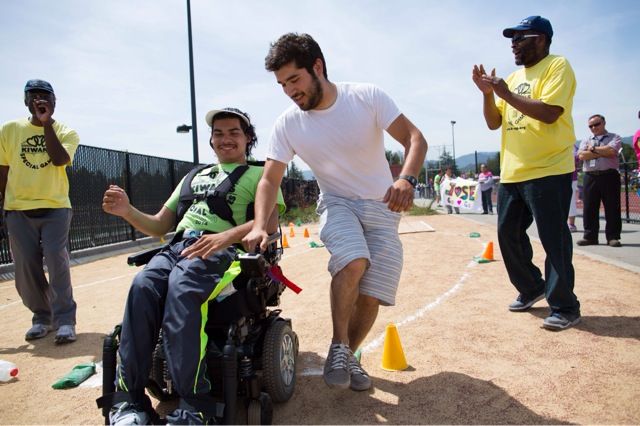 There were close to 200 groups of athletes that went around to compete in different events. Each group was guided through the games by local Key Club (Kiwanis for high school) and Circle K (Kiwanis for college) members. My job was to make sure that all the student volunteers were assigned to an athlete group. I'm below in black visor handing an envelope to a student group.
So that's a little bit about that special day in my life. Now on to some matching nails. Since the volunteers always wear the yellow shirts, I thought I'd start with a coat of yellow.
This is the first time I've worn yellow polish that wasn't neon, and I thought it didn't look half bad. This is Zoya Creamy.
And to match the shirt a bit, I added some hearts that are a part of the Special Games logo.
Application:
This polish went on great in two coats, but it was a stainer for sure. I had a base coat on, but still this did stain my nails yellow. I didn't know yellow stained, oh well.
I hope you liked today's post. I didn't go completely off the nail topic, but I wanted to share a little bit more about myself and I hope you enjoyed it!