a-england, one of my favorite brands, has some amazing polishes with scattered holo finishes. This week I decided to try on a-england Ascalon, which has that amazing subtle holo and has a bit of a duochrome feature.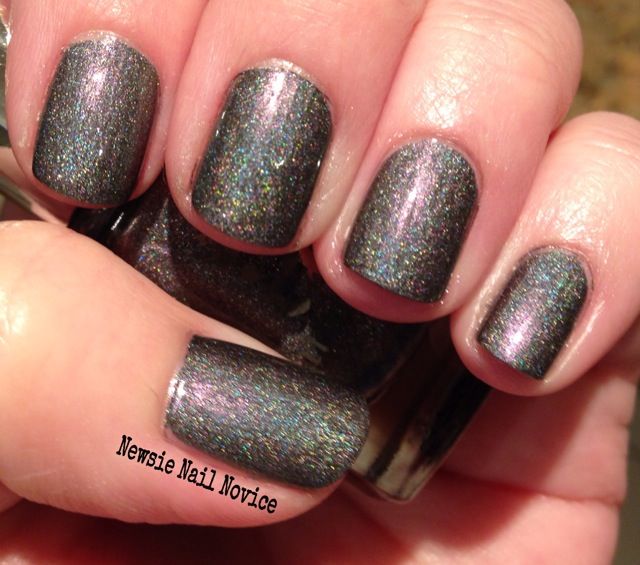 I hope you'll bear with me, I had to get a lot of shots of this amazing polish. I figure when I stare at my nails a lot, it means I need to show you all what I find special in the polish.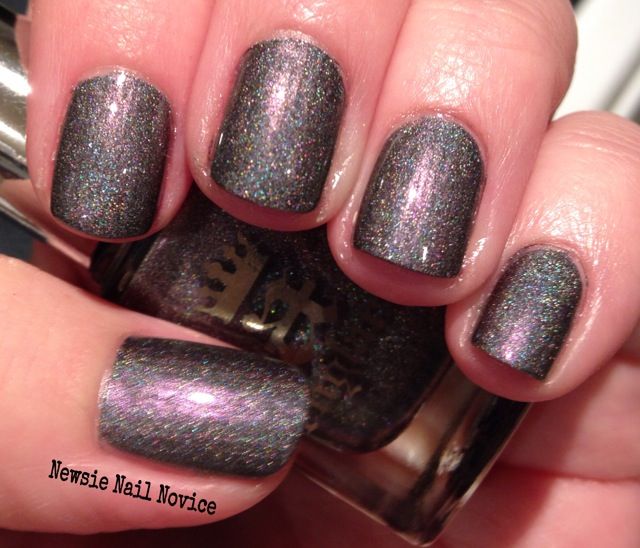 The polish is a dark grey with scattered holo and a beautiful pinky-purple color shift poking its head out at various times!
In the sun the holo finish likes to sparkle and say hello, above, and when in indirect light the pinky-purple comes out to enhance the polish!
I also wanted to stamp this manicure, but I was at a loss as to what color to put on top. This isn't my best stamping job, but wanted to add something to it anyway. I have to say I was a bit distracted when I did this because my packages which were stuck in USPS purgatory for weeks finally showed up unexpectedly!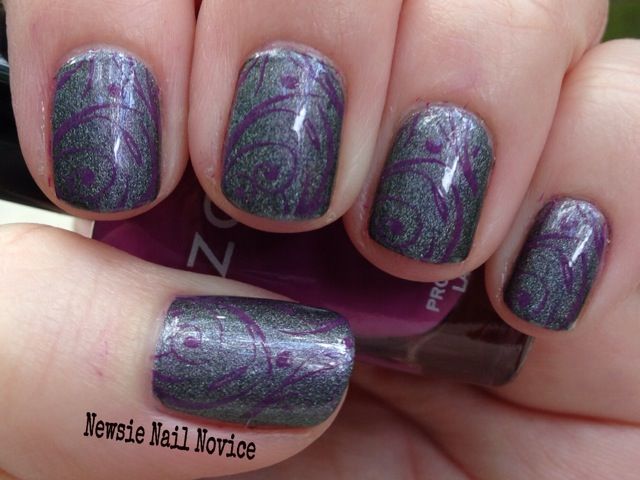 To stamp this I used Zoya Keiko, after trying some lighter lilac colors didn't really show up well. I used Bundle Monster plate BM406. It's not the greatest combination, but it works.
Application:
I find that all a-england polishes are almost one-coaters, and probably could be, if I wasn't such a perfectionist. I used two thin coats for this application and tested out HK Girl Fast Drying and Super Shiny Top Coat for the first time. More on that top coat in a later post when I get to use it more!
Where to purchase:
Most a-england polishes retail for about $10 and you can order them on
Llarowe
or
Color4Nails
, I have purchased them from both sites. I think Llarowe has a lot of their amazing colors in stock right now. a-england is a polish maker from the UK, so Llarowe and Color4Nails is one of a few US retailers of their polish.
Coming up:
My polishes which took the scenic route (i.e. they went from Northern to Southern California three times over) made a surprise appearance in my mail box yesterday! I was so excited to see them! Below is a preview of the pretties, I'm sure I'll be wearing these soon (and I may even be wearing one now, check out my
Instagram
for the preview!) I'm only missing one more package and I think that one is on its way to me now!