Since I have a birthday this week (Tuesday!) I was celebrating early this weekend with family and I got some new nail toys to play with so I thought I would give it a shot and write a review.
So I got a set of Winstonia plates (First Generation 20 plates), Bundle Monster plates (Holiday Collection) and an Winstonia XL Stamper.
Can I just say one thing first? Thank goodness for the internet, because I was having so much trouble trying to figure out how to stamp with the new stamper. Apparently you need a soft touch both picking it up off the plate and placing it on the nail. They key is a soft touch.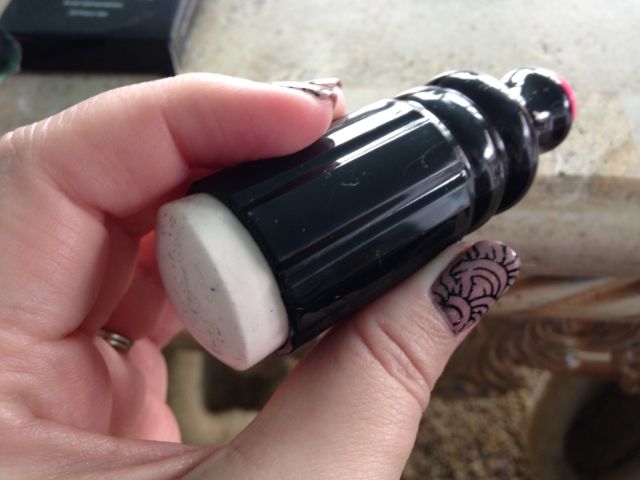 I had limited resources this weekend, and I hear the easiest way to use this stamper is to clean it with painters tape or a lint roller sheet. The white tip is made of a sticky silicone material, so if you clean it with a paper towel or with a cotton swab, it picks up any and all lint possible. So in the future I will try that.
So my results of my stamping job?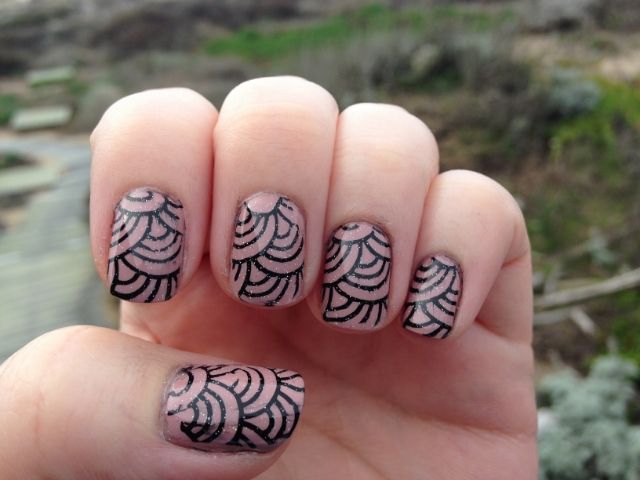 The base is Zoya Rue (more on that in a bit), and I used Winstonia plate 111 as the image. I also topped the whole thing off with a coat of Out the Door Northern Lights to give this mani a little sparkle.
So it took nearly two hours to perfect my technique, I finally understand how to use this stamper and I look forward to many more manis, getting better with my stamping each time I try it. As you can tell, I am not great at it yet, but I will keep trying for sure.
Now on to Zoya Rue. I did not think I was going to like this polish. I saw the swatches online before the collection was available to purchase and it was my favorite. Then I received the bottle and noticed how close it was to my skin tone and I thought for certain it was going to be too nude or boring, but it is just pink enough (without making my skin look awful) that I actually really liked it.
Application
: Rue had a great formula and went on perfectly in two coats. Application of the stamper- have a light touch – including when scraping, picking up the image and transferring the image to the nail. The Wistonia plate I used (my first ever) worked well once I figured out how to get the image off the plate (it's all in the soft touch!).
Where to purchase
: You can purchase Rue on
Zoya's websit
e for $9. The Bundle Monster plates can be purchased on
their website
, most bundles are around the $20 mark. They are also available on Amazon. The Winstonia stamper and plates are available on
their website
and on Amazon. The stamper is $6 and the plate sets are around $17.
What's next?:
It's my birthday on Tuesday and now that I have plates with birthday images, I expect a fun and colorful birthday manicure!
Weekend getaway recap:
Mike (my husband) and I traveled to Monterey Dunes with his mother and father to celebrate his Mom's and my birthdays. We had a fun time going around Monterey, seeing rainbows, enjoying the sunset and the beach and relaxing.
We were seeing rainbows all day yesterday as we were at Cannery Row and the old fisherman's Wharf in Monterey proper.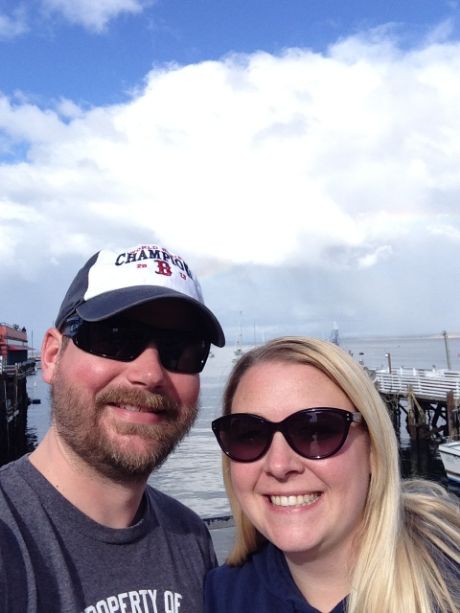 The sun came out and the weather was great for walking around.
The sunsets have been amazing!
And the presents before, above, and after! I made out like a bandit!
The birthday girls had a great weekend and later tonight we will be enjoying the Oscars!