Today I have a two polish review for you guys, some awesome aqua blue holographic sparkle and OPI's pinky-coral polish from their Brazil collection.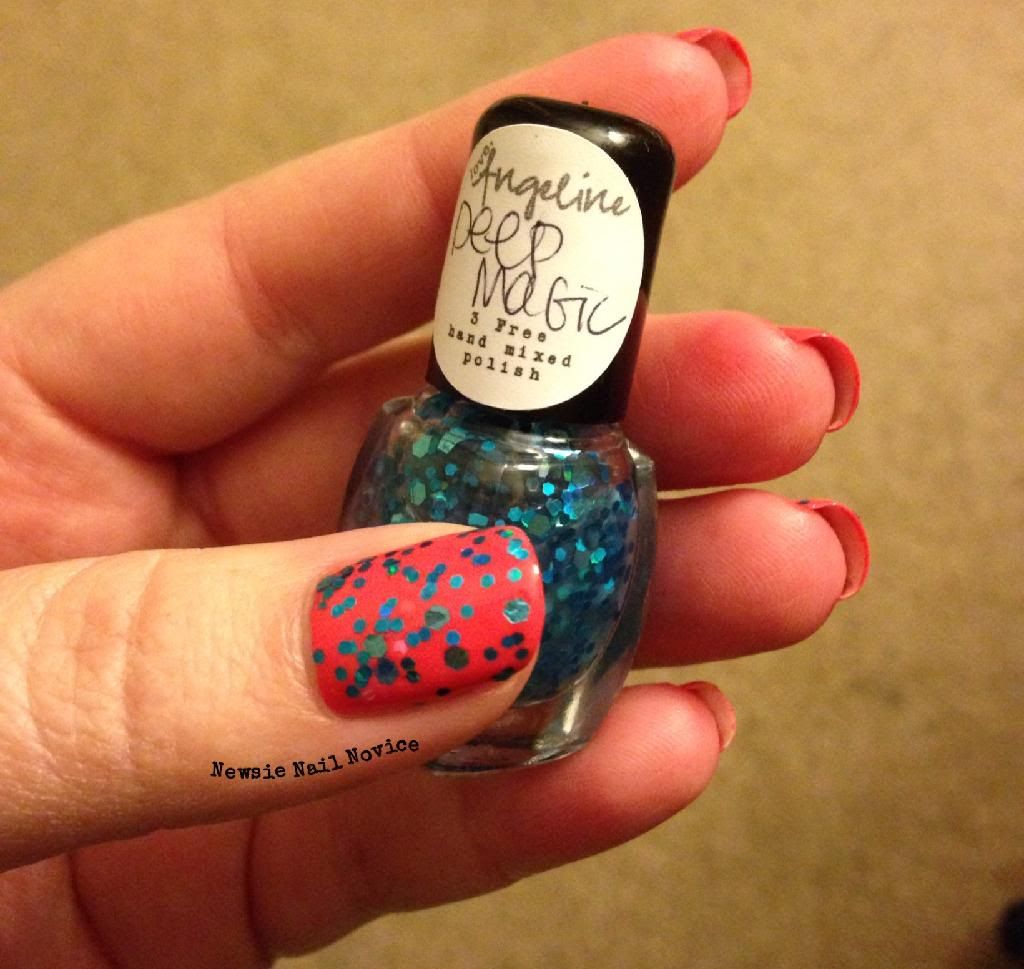 I'll start off with the Love, Angeline Deep Magic. This is a blue holographic topper and it was fairly easy to work with. I like how unique this blue holo is. I have
Deborah Lippmann's Va Va Voom
and it is more of a navy blue holo topper. I also have
KBShimmer's I Got a Crush on Blue
polish, and that is more of a cerulean blue in a blue jelly polish. Deep Magic is more aqua in color and reminds me of my birthstone, the aquamarine. In addition to the holo pieces of various hexagon sizes, there are also some iridescent pieces in there that might make more of a splash over a darker color. I am loving it!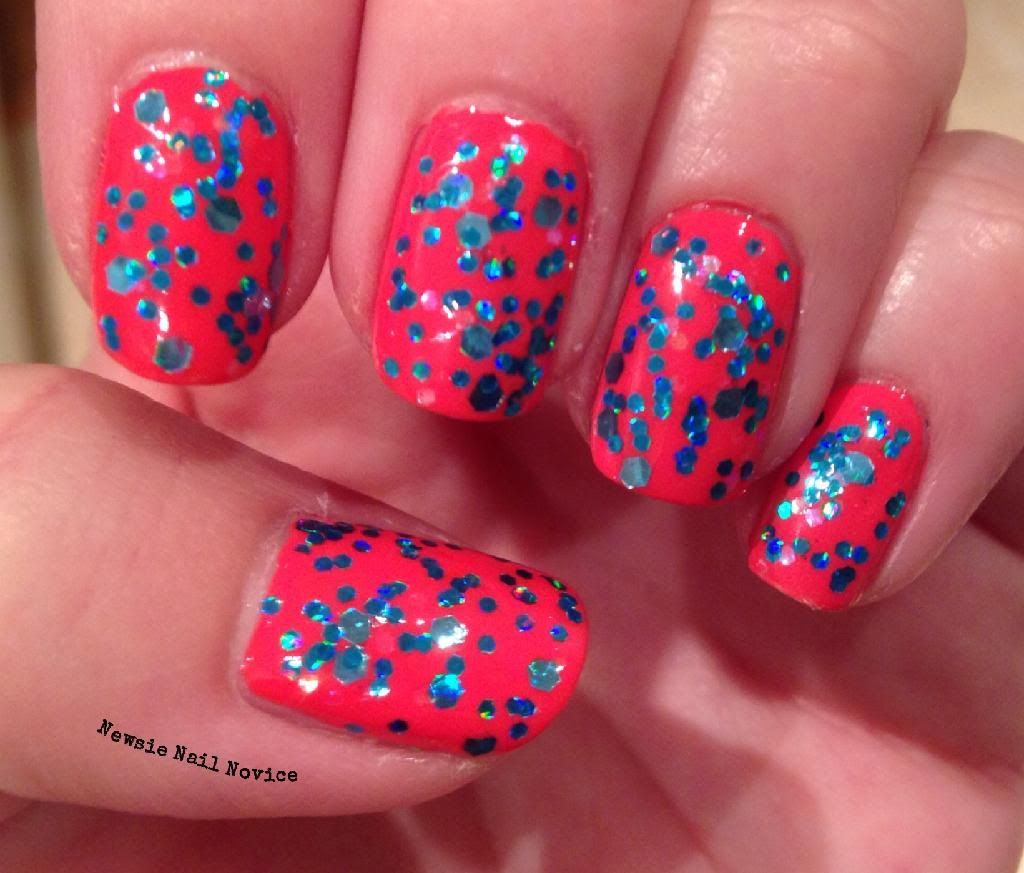 OPI Live.Love.Carnival is hard to capture on camera, it is coral, but a more pink toned coral. I'll have more comparisons of it for a later post. I like the combination of blue and coral, my nails feel bright and match the sunny weather we've been having in Northern California as of late! The above photo is under my kitchen lights, below in full sunshine!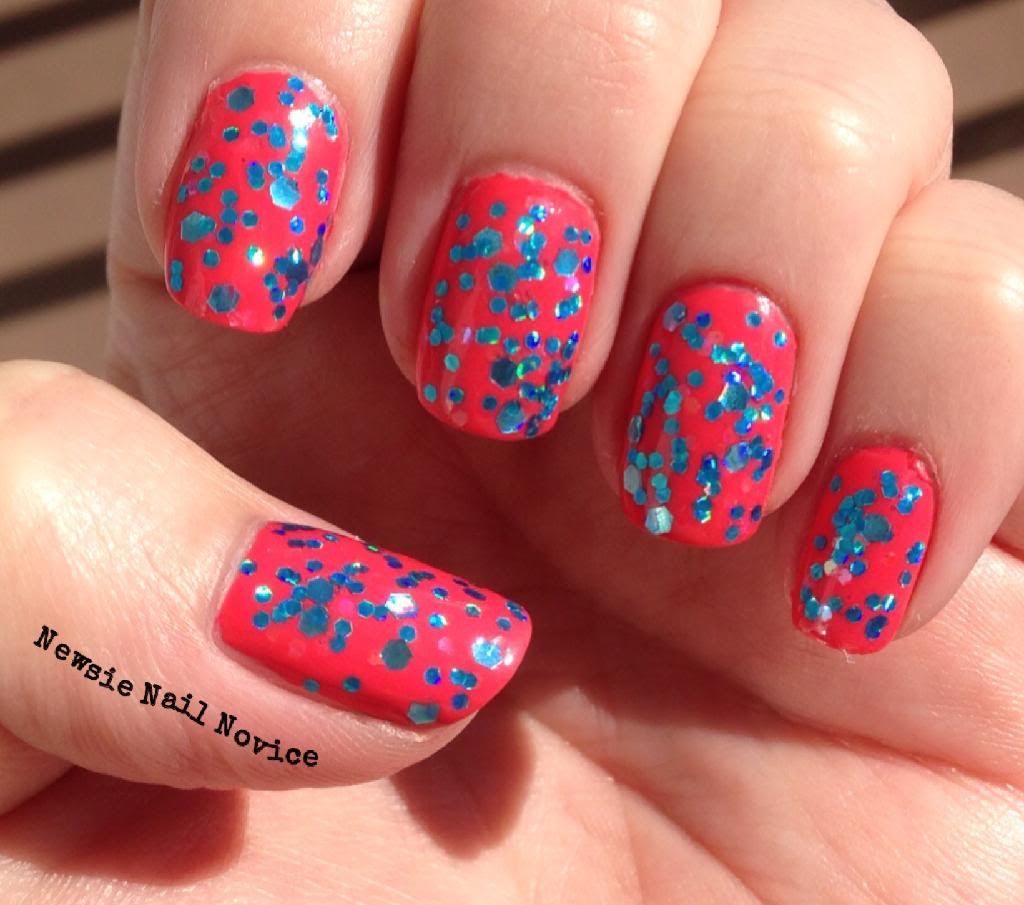 Application: Love, Angeline's Deep Magic was applied using the dabbing method to ensure an even application of the sparkles. The sparkle pieces are suspended in quite a bit of clear polish, so that made application a little tricky, but the payoff is definitely worth it! OPI Live.Love.Carnival applied like a dream. I used two coats of Essie Good to Go top coat to smooth out my dabs of sparkles!
Where to purchase:
Love, Angeline polishes can be purchased on her
website
. You can order her polishes in full size for $8 or mini for $4.25, which is convenient if you just want to try out her polishes. She also sells these cool nail vinyls, I might check out in the future! OPI can be purchased all over internet and at various beauty supply stores and retails for $9.
Looking ahead: Before completing this manicure I did some comparisons of my coral collection and will have those comp swathes on the blog soon!
Have you tried Love, Angeline polishes? What did you think?