Oh my goodness you guys, stamping is really rough. I know the more I do it the better I will be for it, but man is it trying in the meantime. First I show you the final result: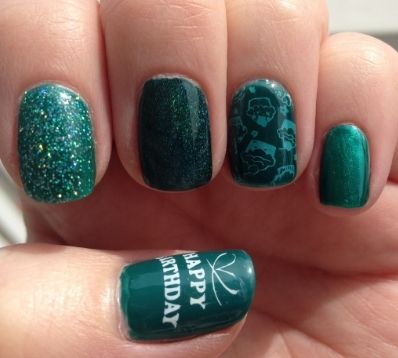 But man was it a chore getting there. First I set up my station, all clean and organized. Not realizing how long and just how messy this project would be.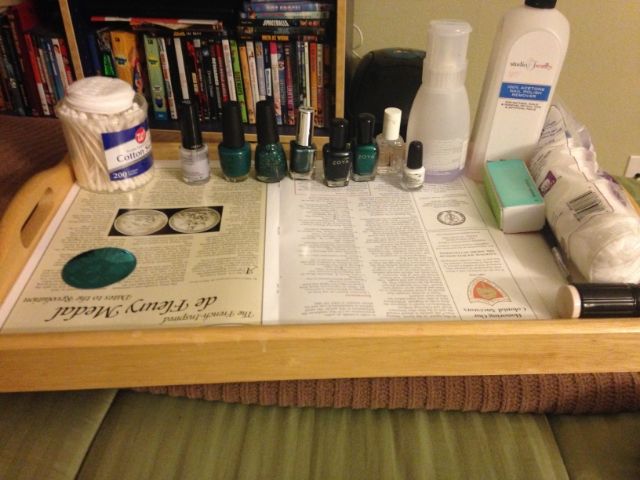 I had plans for a teal skittle manicure featuring (from thumb to pinkie) OPI AmazON AmazOFF, China Glaze Atlantis, AEngland St. George, jelly sandwich stamp featuring Zoya Frida and finally Zoya Giovanna.
First I messed up twice on my jelly stamp on my ring finger – TWICE. It wasn't necessarily the stamping that messed up, but working with wet nails and stamping and all these different colors.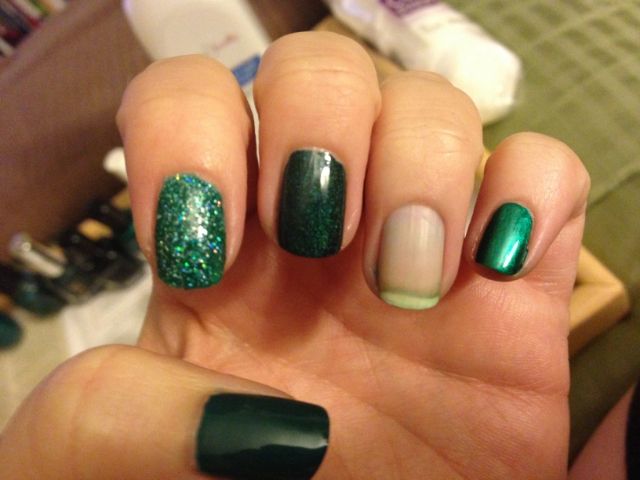 Unfortunately I was wearing OPI AmazON AmazOFF as undies for the jelly sandwich and I found out, boy does this puppy stain. Ugh. So to mess this nail up twice, it was stain city! I don't think it is too bad though. Maybe some time in the scrubby tub would remove it completely.
And the sad time I messed up the nail for a second time. :(
In addition to messing up, I could not for the life of me get the Happy Birthday stamp on my thumb to work. It would not transfer to save my life. That was what made such a mess and probably attributed to my mess ups.
After an hour (I know the definition of insanity is doing the same thing over and over and expecting different results) I realized the problem was the terrible scrapers I was using – they were the ones that came with my Winstonia stamper (the stamper is amazing by the way!). Word of advice, if you buy this stamper throw away the scrapers immediately and just use an old credit card. I will save you so much time and stress.
The culprits above, and the mess below.
One more tip also, cleaning the Winstonia scraper is also easily done with a piece of painters tape. Takes away cleaning mess with acetone and works like a charm.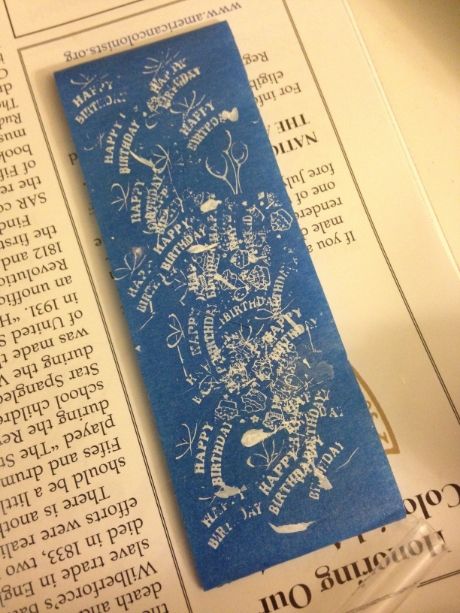 I was very happy when it was all done, still not as perfect as I wanted it, but good enough for my birthday I suppose!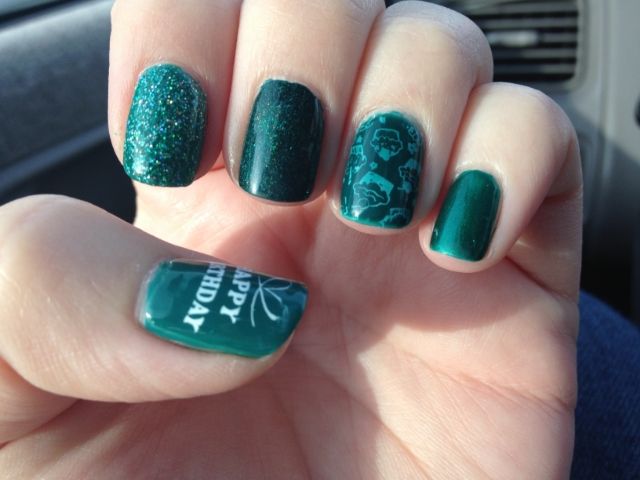 So for the review part:
Application:
Stamping works well once you get your groove and discover what works and doesn't work for you. My advice, watch a lot of YouTube tutorials and see how other people make it work. That is how you learn some tricks (like the tape clean up). All the polishes were smooth with application. China Glaze Atlantis, which was a wonderful Random Act of Kindness gift I received from an Instagram friend, took three coats for that opacity as it is sparkles in a jelly base. It also required two top coats for a smother finish. OPI AmazON AmazOFF will stain, so be aware, but the color is took good for that to be a deterrent for me. It is a crelly consistency, took two coats for full opacity. AEngland St. George was almost a one coater and is just an amazing polish, one of my favorites. Zoya Frida is the jelly I layered over my cupcake stamp and I used two coats. Zoya Giovanna is also almost a one coater.
Where to buy:
You can buy OPI and China Glaze at most beauty supplies and online retailers. Zoya is available at their
website
. These polishes retail from $7-9. The Winstonia stamper is available on
Amazon
for about $6, please throw away those scrapers though!
Looking ahead:
I'm thinking of trying to do a manicure in honor of my grandparents as we are celebrating their lives at a joint memorial in Seattle this weekend. Or I might just take it easy and give myself a tiny break on the art side of things.
What do you think? Which finger did you like best? What shade/finish of teal is your favorite?