I'm not going to lie everyone, Thanksgiving has never meant all that much to me. Because of all my various food restrictions, I've never been able to eat the turkey, stuffing, gravy, pumpkin pie etc.
But it has never really meant much to me anyway. I'm usually working for my mom that weekend, so I spend the day watching the parade (alone while my parents are setting up the show and my husband is visiting with his family out-of-town) and then have some low-key set up with my parents.
So this year I didn't really feel much in the mood for Thanksgiving nails, also because I don't think I could top last year's nails.
Oy my photos skills were so bad back then!
Those were some super cute nails. And since I did so many fall leaves manicure, which is really my favorite part of this season, I was getting a little tired of the warm color motif. But try I did put something together last night, because I couldn't not do something this year.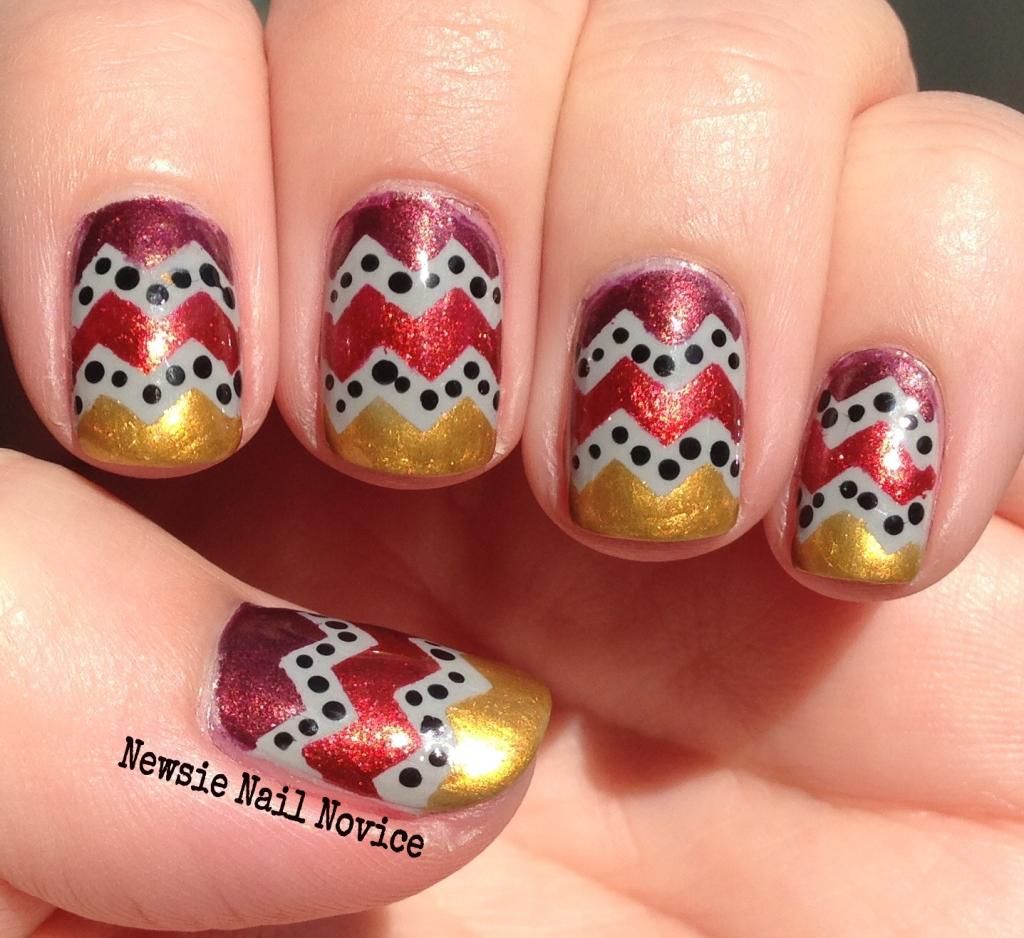 I'm still not excited about this design, but I showed it to my MakeupAlley friends and they were super sweet about it. Calling it turkey-reminiscent without actually being a turkey. One person said it was like a sweater design for a turkey.
If you haven't joined the
MakeupAlley Nail Board community
, I suggest you do. They are all so nice and supportive and helpful and sweet! So this is definitely a shout-out to the sweet ladies over there!
I started with two thin coats of Zoya Dove and then used chevron nail vinyls and added a coat of ORLY Rockin' Rocket (seriously the only thing close to a brown I own), Zoya Channing and Zoya Goldie for the colors chevrons.
Then because I thought the grey was too overwhelming, and not super Thanksgiving-esque, I added the black designs. I think this sort of gives it a more Native American vibe as well.
So what do you think? Like I said, I'm still so-so on it, but it's what I'll have on for the weekend show with my mom. I know you're all probably a little curious to why I am doing this so far ahead of Thanksgiving. Well by Thanksgiving I'll be working my mom's show again, and that will be definitely time for some holiday nails, so this is the last of the fall/Thanksgiving nail art for the year I'm afraid.
And because I think sweater shots just make every manicure look cozy and nice, I'll add one more shot!
Happy Thanksgiving everyone! Please sign up for my
giveaway
, it doesn't end until Dec. 1!