So you guys, today marks my sixth straight month of consistently blogging! Yay! And yesterday, I received a shipping error courtesy of MoYou London, my absolute favorite nail stamping plate company! Basically, when I ordered nail plates from them recently, my original order from them went through instead of the new plates I actually ordered – two emails later the problem was fixed and I had the right plates on their way to me, but I was shipped my original plates so I thought I would do a giveaway to share the love.
Let me start off by saying these are by far the absolute best plates to stamp with ever. They are etched so deep there is never a problem trying to pick up the image when stamping with these plates. They are practically fool proof.
Anyway, the giveaway gives you an option to win one of three different MoYou London stamping plates! First off I will show you the plates and at least one stamping manicure I did with each plate.
First off my favorite the Sailor 04 Plate.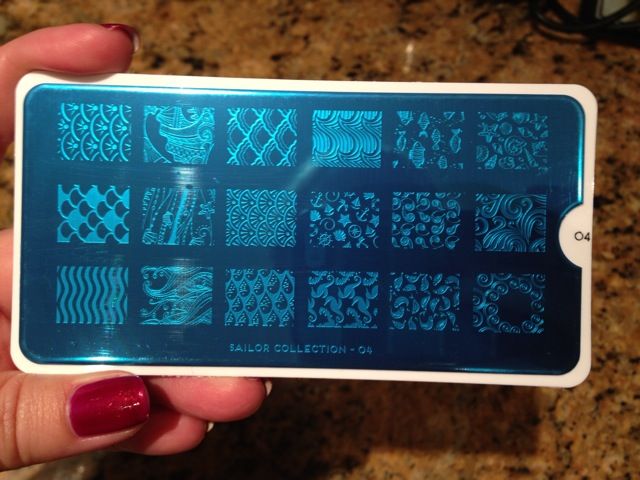 These are smaller images, which are perfect for my size nail, but might be a little small for others. Just keep that in mind if you win and I ask you what plate you would like to win.
And one more from this plate because I love it SO much!
The next plate is the Pro Plate 06 with XL images, I found these images to be a bit large for my nails, but would be perfect for someone with longer or wider nails than mine.
And here is a lovely floral manicure I did using this plate.
And finally, here is the Scholar 02 Plate. I found the images on this one to be a bit large for my nails as well too, but I'm a writer so I just had to have this one.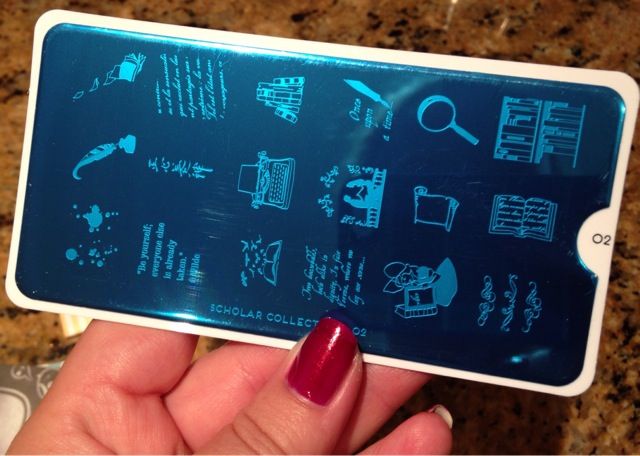 And a quick morning stamping job I did using this plate, please forgive the early morning bad photography on this one.
Before I get to the Rafflecopter I want to say just how wonderful MoYou London plates are. Seriously, if you haven't stamped with a MoYou Plate yet, once you will you will be totally hooked to the prospect of it I promise!
MoYou London
is based in the UK, but currently they have free shipping to the U.S. so what are you waiting for? Get your butt over there and order some plates!
The prizes one more time and then the Rafflecopter entry info! NOTE: This giveaway is for U.S. residents only (sorry to my international buddies, this is my first giveaway and I don't have the $$ for international shipping).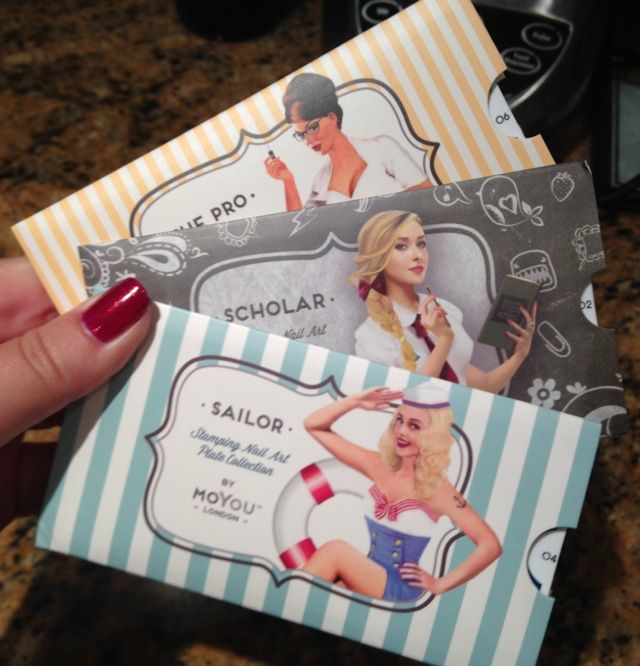 a Rafflecopter giveaway