First off I'd like to say I'm sorry I keep forgetting to blog on Fridays. My intent every week is to blog Mondays, Wednesdays and Fridays, problem is, by Fridays I get pretty swamped in life. Fridays are deadline day at work and so my life gets a little hectic. If I don't pre-blog on the weekends, I get overwhelmed and I'm sorry about that guys!
Anyway, I've pushed up my order of posting this week to show you this amazing polish I got in the mail this weekend. Check out Smitten Polish Out of the Darkness.
Out of the Darkness is a charity polish Smitten created especially for Suicide Prevention month. Here is what Noelie, the genius behind Smitten, has to say about the polish.
"Smitten is doing a special charity polish this month for Suicide Prevention Month. Suicide prevention is a cause that is very, very important to me on a personal level, and it means a lot to me to be in a position to lend awareness to the fact that mental illness is real. It's affected my family. It affects LOTS of families, and lots of people. The suicide prevention hotline number is 1-800-273-8255. It's my hope that this number might be useful to people who are struggling, whether it's the person buying the polish or someone they care about. The charity polish is called Out of the Darkness. It's a purple jelly base with turquoise and purple holo microglitters (the suicide prevention colors), along with teal to purple color shifting glitters. $6 from each bottle sold in the month of September will be donated to the American Foundation for Suicide Prevention (www.afsp.org)."
Update:
Since Noelie had some supply issues in September, she is extending her offering of the polish through the month of October for Depression Awareness Month. She will be relisting it on the website as soon as her shipment of bottles has arrived. As of Friday, she has raised $552!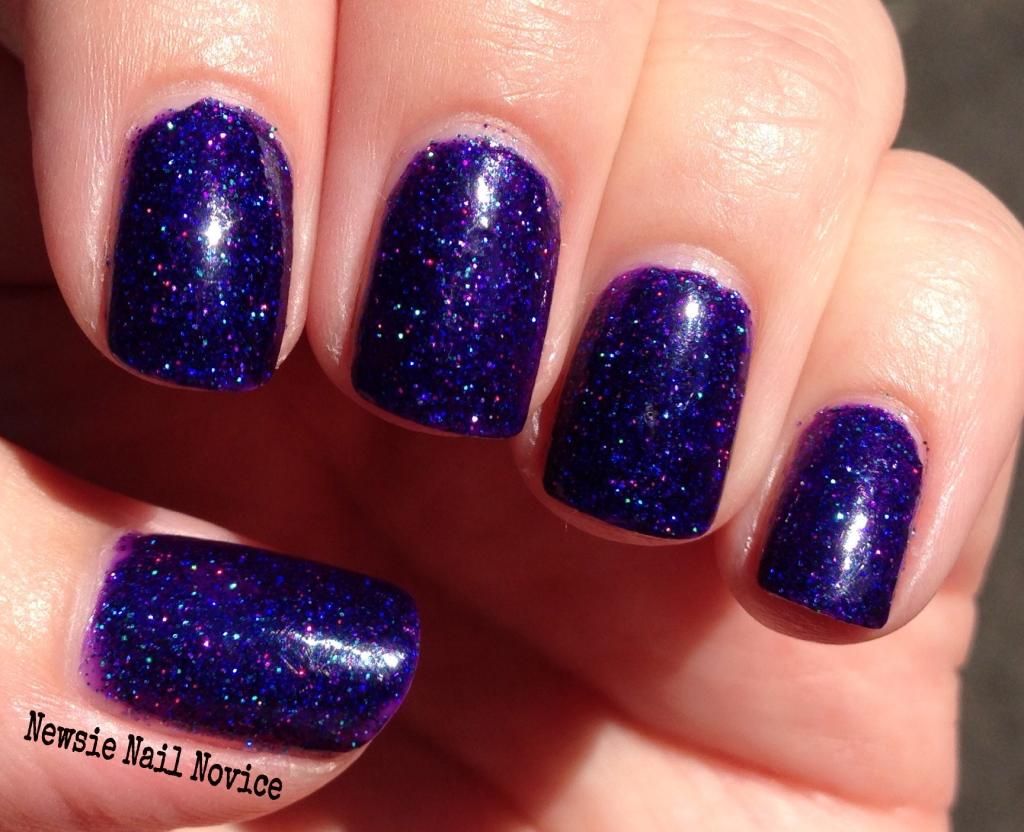 The minute I got this under the light, I was amazed! This polish is a smorgasbord of glitter sparkle. I see teal, purple, holographic all suspended in a beautiful royal purple jelly polish.
In many lights this polish had a glowy blurple look, but always you could see the amazing sparkle!!!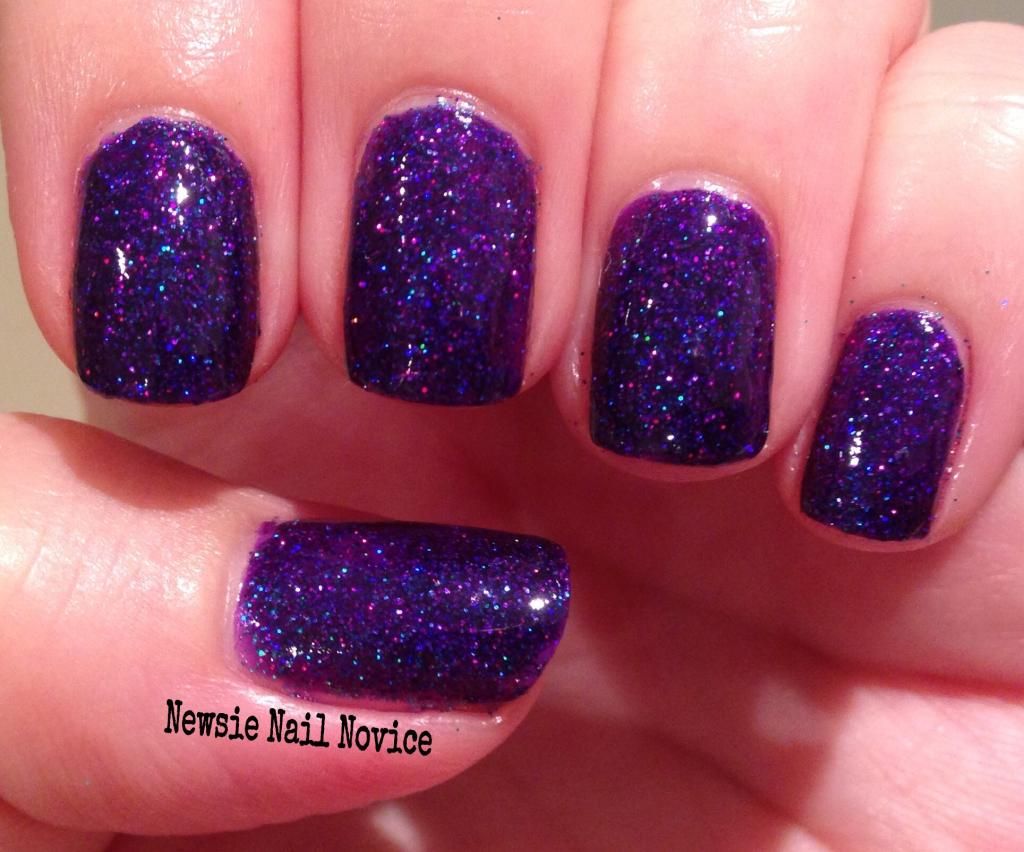 The photo above is under my kitchen light, doesn't neccesarily look this purple in real life. Honestly, none of these photos can really do this polish as much justice as it deserves! This is a beautiful polish, I hope these photos convey just how gorgeous and unique this sparkle is.
Application: This polish dries very quickly, but is so packed with glitter that it is almost textured. It also dries very matte. Because of all the glitter, this polish is top coat hungry. I used two coats of KBShimmer Clearly on Top for these photos.
Where to Purchase: As soon as Smitten gets its bottle supply, the polish will be listed at the Smitten Website. Follow them on Facebook for more updates. I purchased this polish for $11. While you are on the website, take a look around. Smitten is one of my favorite indie brands.