Today I'm sharing with you a manicure that I did when I felt like I had total painter's block. I had so many colors, I couldn't decide on what polish I wanted to use on my finger tips.
I couldn't decide, sparkles, cream, duochrome, skittles or nail art?
Eventually I just decided on working with some untrieds in my collection and trying a look I had not done before.
I decided to try on this beautiful purple polish from Essie's 2013 Wedding Collection. This Essie is called Using My Maiden Name, and I was lemming this polish for such a long time. Then I bought it and never used it! What is wrong with me. I think my main problem is I am never in the mood to wear purple for some reason. Which is crazy, look how beautiful this polish is!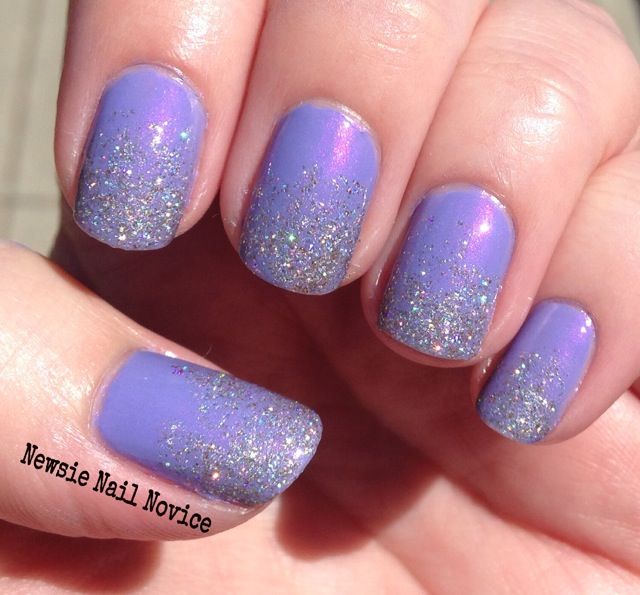 Using My Maiden Name is a beautiful light lavender color with a pink shimmer under sunlight. Such a beautiful delicate number which screams spring to me! And since I can never just have a single color or finish on my nails, I added a glitter gradient of Butter London's Fairy Cake on my my tips!
It's still beautiful in indirect sunlight, below!
Glitter gradients can be tricky because some glitters are harder to build up on for the gradient looks. For this look, I did one coat that went halfway down my nail and then topped it up with another coat right at the tips. Sometimes the gradient isn't as obvious and gradual, but I thought this turned out well and this polish worked well for the build up!
Application:
Essie's Using My Maiden Name was a little streaky, even after two coats, but I settled at that because I knew I was topping with sparkles. The trick is to use thin coats to get the best look out of this polish. Butter London Fairy Cake was a beautiful fine sparkles that build up well. This is about two coats on tips, one coat on the mid-nail. Also Fairy Cake did not dry too bumpy.
How often do you wear your untrieds? What is one polish you just HAD to have and then let sit on your wall collecting dust for a year before you tried it?