Awhile ago, I was browsing one of my favorite nail polish communities, Makeup Alley's Nail Board, and was inspired by their weekly theme: dots.
Dots on manicures are so versatile. They can make a plain manicure look classic or they can bring multiple colors and a unique look to a manicure.
I had recently purchased a few neon nail polishes and knew right away I wanted to use them in an ombre fashion, so when faced with the dot challenge I decided to put my new polishes to good use.
I've seen many manicures featuring neutrals and neon polishes together, but I had never tried it myself. I am so happy I did, I really like how this ended up looking! I don't look great wearing nude-neutrals, so I used a grey polish as the backdrop.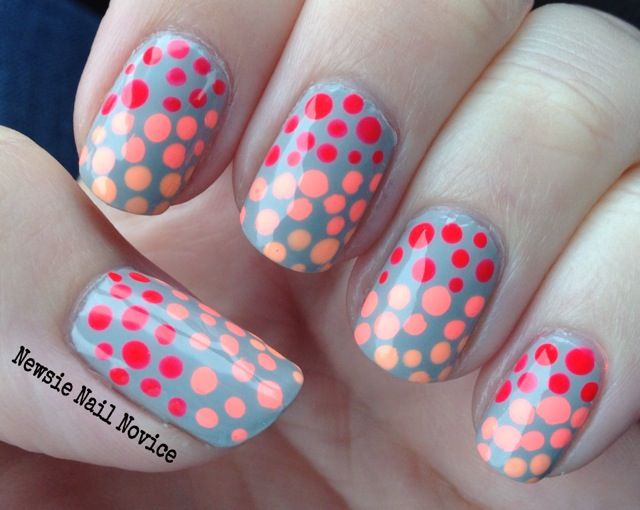 Looks great indoors and outdoors!
Polishes used:
I used Zoya Dove as the backdrop, its a great light gray color. I used all China Glaze polishes for the neon colors (I really love their variety of neon colors!). From bottom to top of the nail we have Pool Party, a neon pink leaning coral; Flip Flop Fantasy, a neon light orange leaning oral; and Son of a Peach, a light neon peach.
This definitely has to be one of my favorite dotticures of all time! What do you guys think?