This is an old manicure that I found lost in my iPhone photos and I realized that I didn't review it! Whoops! Anyway, KBShimmer is one of my favorite indie brands and their price point is so affordable as well! If you haven't tried indie polishes, KBShimmer is a great one to start with!
Let's get started, they recently came out with their spring line, which has many beautiful colors and I picked up two! This is the first I've tried so far.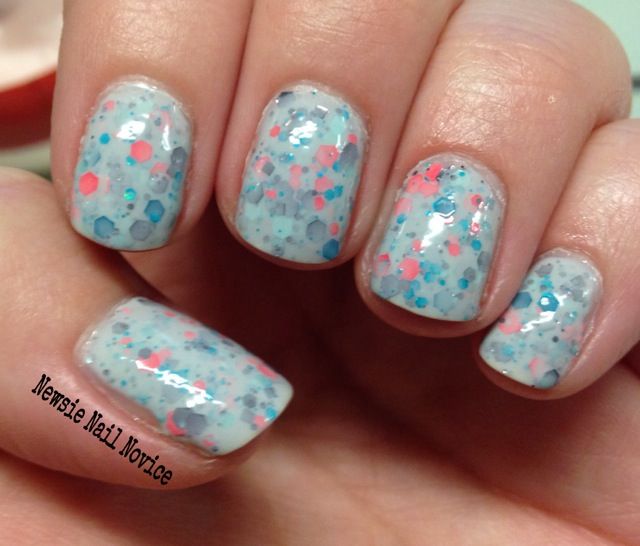 Make My Gray consists of coral and gray matte sparkles with aqua holo sparkle pieces suspended in a milky gray-blue base.
I loved the combination of aqua and coral pieces, really made this polish a unique mix!
In the sun the holo pieces sparkle, but indoors this polish is pretty as well!
This polish could make an excellent accent nail to a coral manicure or an aqua one! I tried a little nail art on it, using China Glaze Flip Flop Fantasy, but I couldn't quite match the coral pink. Didn't really like the stamping job, it was just too busy, but I had to try something!
Application:
This is a polish that is packed with sparkle pieces, you don't have to fish for any of the sparkle pieces, but you may have to do dab for application so you get the sparkles where you want it. These swatches are about three coats of dabbing, you could probably get away with two, but I require perfection.
Where to Purchase:
You can purchase KBShimmer polishes from their
website
, their polishes range from $7.50-$8.75 per bottle. This
polish
retails for $8.75.
Good news:
I won
Chameleon Stampede's
Second Blogaversay contest and I am getting a $25 gift certificate to
Girly Bits
! I am a Girly Bits virgin, but I've had my eye on
A Stripper Has Been Sleeping in My Bed
and
Get Weaponized
for some time now, so that will be great!
Recent purchases:
I went on a spending spree this weekend, and man do I have so many pretties coming my way- new Dance Legend Spring Wow Prisms, another Color by Llarowe, more Indigo Bananas and my first Smitten Polishes are coming my way. I'll have lots of new pretties to show you coming up!