Proper moisture and cuticle care is the way to gain healthful looking nails and I have been rather random about all the different products I have been trying to achieve the optimal moisture.
Today I am featuring two products that I use as an intensive overnight treatment because the formulas are so thick, you don't want to put this on and then go browsing on your tablet (the product will transfer right to your screen).
First off, this is the BEST moisturizer I have found. I have tried countless drugstore and specialty store brands. None is as long lasting or nourishing as this lotion. I put this on before I go to bed and I can still feel it in the morning 8 hours later!
The lotion is
Gold Bond Ultimate Skin Therapy Lotion Healing
with Aloe formula and can be found in most drugstores. It comes in a 14 oz. bottle with a pump or a 5 oz. tube. I see the larger bottle in the $8-10 range. Great price and a good reminder that even the nicest brands can be outdone by drugstore brands.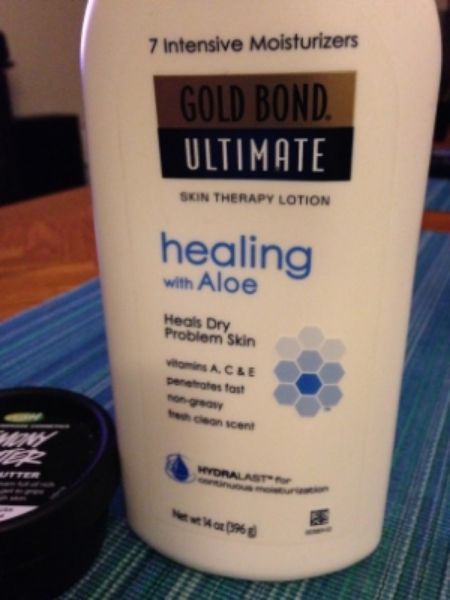 The second product I'm not completely sold on yet but so many people online rave about it. I'm trying to use it regularly to see what all the hype is about.
Lemony Flutter
is from LUSH, a company I have just begun trying but am finding to really like some of their all-natural, cruelty-free products.
First off, this product doesn't have the greatest smell, but it is mild (at least to me, it is repulsive to some people online). It's not quite the lemon or citrus scent you expect considering the name, but it is more of a lemon petroleum jelly type smell. It's too mild for me to really be bothered by it. For me, the product is just so thick, after applying you can't touch anything for a long time because it takes a long while for the thick shea butter formula to sink into the skin.
To apply I use my index finger to swipe up some of thick formula (some people use a brush to apply, might try that later) and rub it along my cuticles and the skin around my nails to keep them soft and moisturized. It basically leaves a greasy white cream along edges of my nails and doesn't soak in for a long time. I follow that application with the application of the lotion above, probably waiting 10-15 minutes before hitting the sheets to let everything soak in.
Anyway, so far so good. I like the way my hands look and feel after applying this the night before. This morning my nails of the day (new mani) look like this:
Nails feature Zoya Dove with a glitter gradient tips of OPI Servin' Up Sparkle. Inspired via a Pintrest mani.
And before I leave, I'll share this little deal currently going on from one of my favorite nail polish brands. Zoya, a wonderful natural nail polish company, is holding their
Three-Free promotion
they do at the beginning of every year. For a $12 processing and shipping fee, you get three of their colors. Spend $25 or more, and shipping is free. Before I went on my no-buy, I got six colors for $27.
If you want to check out some quality polish and don't want to spend a fortune yet, this is just the thing to get your feet wet (or nails in this case). Zoya just increased their polish prices from $8 a bottle to $9 this year, so this is a good time to stock up because deals like this don't happen often (usually only around Christmas and the start of the New Year).
Happiness of the day: Smelling a fresh rain shower when I stepped out of the house today.
YouTube of the moment: The Secret Life of a Polish Addict. Now I'm not totally this bad, but I admit there are definitely some truths to this video.